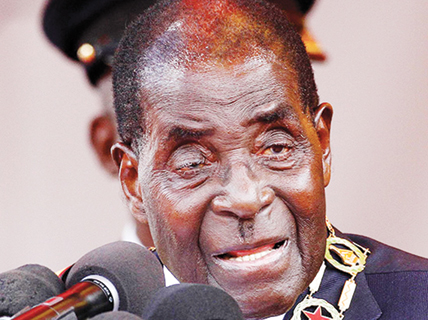 HARARE – President Robert Mugabe of Zimbabwe returned home from a medical check-up in Singapore on Friday after a week in the southeastern Asian state, leading to renewed questions about the health of the 90-year old leader who has no obvious successor.
Africa's oldest and longest serving leader – who denies he has prostate cancer or any other illness – was in Singapore for a "another routine" eye check-up, his spokesman said.
Mugabe had a cataract operation in Singapore on the eve of his 90th birthday in February and his visits to the southeastern Asian state have become more frequent over the last couple of years amid doubts about his health.
Rumours he has prostate cancer have swirled since June 2008, when a U.S. diplomatic cable released by WikiLeaks said he had the disease and it had spread to other organs.
On Tuesday, Britain's Channel 4 News released a short video of Mugabe entering Singapore's Gleneagles Hospital with his wife Grace and security aides.
His spokesman George Charamba said he had not spoken with or seen Mugabe since his arrival back home in the early hours of Friday. But Charamba said the Zimbabwe leader was due to travel to South Africa to attend the swearing-in of President Jacob Zuma on Saturday.
Zimbabweans fear instability if Mugabe dies in office without resolving a succession battle raging in his Zanu PF party, which has ruled the southern African country since independence from Britain in 1980.
Vice-President Joice Mujuru and Justice Minister Emmerson Mnangagwa are seen as the front-runners, but Mugabe recently confirmed the contest was also open to other Zanu PF leaders.
 – Reuters
Related Topics