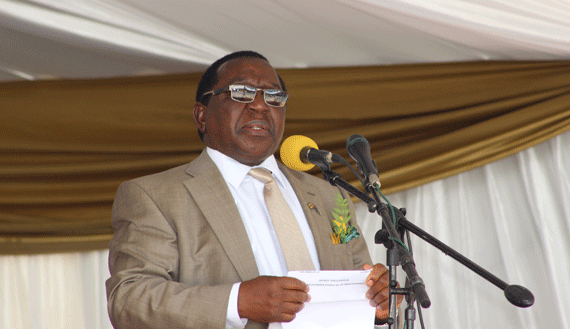 SENIOR Minister of State Simon Khaya Moyo yesterday challenged local authorities to adopt smart city and e-transport solutions to tame the traffic jungle that has seen innocent citizens caught up in the cross–fire as traffic police officers fight running battles with public transport drivers.
PHILLIP CHIDAVAENZI SENIOR REPORTER
Officially opening an information and communication technology (ICT) workshop in Harare on behalf of acting President Joice Mujuru, Khaya Moyo yesterday said the adoption of ICT in urban transport management systems would halt the "kombi wars" and traffic congestion.
"To solve these problems, let us learn from others' best practices and also add value to other people's knowledge of how the smart city solutions can promote more harmonious cities," he said.
"The ZRP (Zimbabwe Republic Police)–kombi wars must come to an end as we use ICT to address some of the challenges we face in the traffic jungle."
Moyo said local authorities should tap into smart city and e-transport solutions to solve problems including traffic accidents, traffic jams and urban crime that were synonymous with accelerated urbanisation as many countries were now adopting such technologies.
"These investments in digital infrastructure are designed to improve the way we manage the built environment and confront the challenges of urbanisation," he said.
Officials who attended the ceremony included the Information Communication Technology, Postal and Courier Services minister Webster Shamu, Chinese Embassy Economic and Commercial counsellor Li Yaohui, Minister of State in the office of Vice-President Sylvester Nguni, Zimbabwe Open University vice-chancellor Primrose Kurasha, TelOne managing director Chipo Mutasa and NetOne chief executive officer Reward Kangai.
Li told the workshop that ICTs have significantly penetrated Zimbabwe and enhanced co-operation and bilateral relations between the country and China.
The workshop was organised by ZTE Corporation, a State–owned Chinese enterprise, and the Information Communication Technology, Postal and Courier Services ministry.
ZTE Corporation chief executive officer Duan Yong said they offered itemised ICT solutions including e-government solutions, e-transport, smart city solutions and e-education solutions.