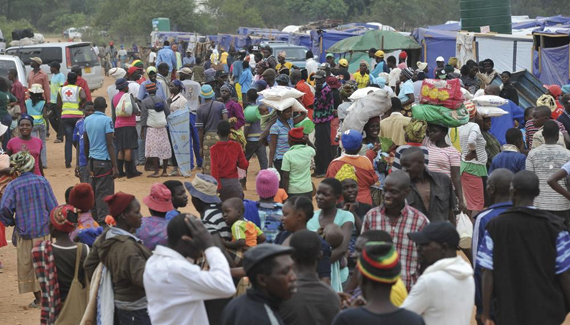 UNITED STATES-based Human Rights Watch (HRW) last week released a report that for the first time seeks to explain what caused the devastating floods at the Tokwe- Mukosi Dam basin in Masvingo.
HRW quoted some flood victims who strongly believe the floods were deliberately induced to force villagers to work at a nearby sugarcane farm. Thousands of families were displaced by the floods and most of them are now stuck at the Chingwizi transit camp where all manner of problems have emerged to haunt the government.
The HRW report contends that the floods were artificially induced with authorities flooding the area to forcibly evict people without compensation and hire them as low-paid workers on the sugarcane farm owned by a businessman with Zanu PF links.
HRW said workers at the dam site also corroborated the claims, which means they warrant a serious investigation.
The villagers claim armed air force soldiers forcibly evicted them unnecessarily and without compensation.
Some of them strongly believe that the flooding of the dam basin did not cause any immediate danger to them hence the mass evictions were not necessary.
This could explain the anger at the camp where the flood victims have refused to move out to one hectare plots provided by the government as they insist on full compensation first.
Last weekend, about 10 ministers were embarrassed after the villagers at the camp refused to listen to them instead demanding compensation.
The villagers said they no longer trust the government to keep its promises. HRW's claims would be akin to pouring fuel into a raging fire.
The government is bound to dismiss the report as the work of hostile regime change merchants.
However, the authorities are warned to tread cautiously because it is such reports that blight Zimbabwe's image and it is important that the government sets the record straight.
Only an impartial investigation would help set the record straight.