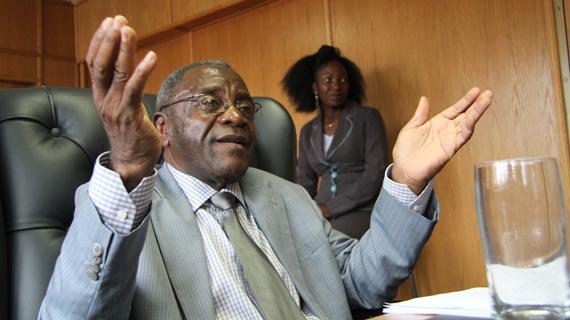 ZIFA president Cuthbert Dube is set to lead a three-member delegation to the 2014 Fifa Congress that will precede the World Cup which roars into life in Brazil on June 12.
TAWANDA TAFIRENYIKA SPORTS CORRESPONDENT
Zifa communications manager Xolisani Gwesela said the association's vice-president Omega Sibanda and chief executive officer Jonathan Mashingaidze will also attend the Fifa congress on June 10.
"I can confirm that the president is expected to lead the delegation to the Fifa congress. They are set to go the congress early next month," Gwesela said.
Every national association affiliated to the international football controlling body is allowed three delegates to the Fifa Congress and the delegates can attend the opening round of World Cup matches before they return home.
Hosts Brazil play Croatia in the opening match. Zifa, saddled with a $4 million debt is expected to take advantage of the fully sponsored trip to try and source funding from the world soccer governing body, which already has put $500 000 on standby for the construction of the new headquarters.
However, Zifa has to come up with a financial plan that can convince Fifa as Zimbabwe is not the only struggling football federation seeking Fifa's financial support.
Fifa president Joseph Sepp Blatter promised some funding for Zimbabwe when he made a stopover in Zimbabwe on his way to South Africa, but the promise was on condition that Zifa came up with projects that deserve funding.
Zifa has since revealed they are in the process of reviving the commercial arm which will see them going into farming as part of efforts to generate revenue for the association.
This will be the second time Dube will be attending the Fifa Congress having done so during his first term when he attended the congress in South Africa. Dube is the second Zifa president after Leo Mugabe to serve during two consecutive World Cup finals.
Mugabe was Zifa president during the 1994 and 1998 World Cup finals. In 1998, Mugabe voted in the Fifa presidential race that brought Blatter into power.