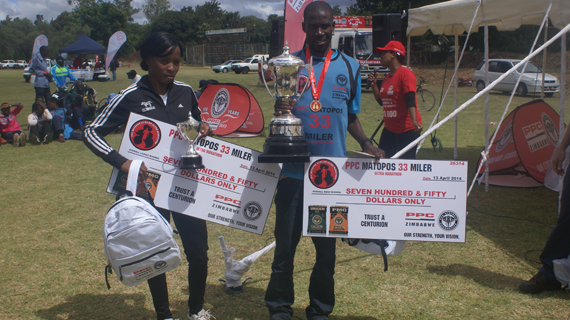 HILMAX Athletics Club and Zimbabwe long-distance runner Monica Kativhu is geared for South Africa's Comrades marathon down run. She will take part on June 1.
RONALD MOYO SPORTS REPORTER
The event will see athletes from different countries battling it out in the gruelling 89km marathon from Pietermaritzburg to Durban.
Kativhu, who will be taking part in the competition for the first time, said she has been working on endurance under Harare Athletics Club coach Aaron Whyte and she is now concentrating on speed.
She said although she has not been in the competition before, she is aiming for a top-10 finish.
"I am preparing hard. I have been working hard for the past weeks with Whyte and I am now concentrating on speed. I have never been in that competition and it will be the first time to run such a distance, but I am aiming to finish in the top 10," Kativhu said.
Hilmax director Patrick Musavhaya said they were sponsoring Kativhu as they saw great potential in the athlete.
"We believe in her, that is the reason why we will give her financial support. She is doing well and we are confident she will do wonders in South Africa. We wish her all the best," Musavhaya said.
Kativhu has been doing well this year, finishing fifth in the Nengoma 56km marathon in Durban on March 16 before coming second in a time of 4hrs 26mins at the Boksburg Saps ultra-marathon in Johannesburg the following week.
Back home she retained the Pretoria Portland Cement Zimbabwe-sponsored Matopos 33-Miler ultra-marathon on April 14 romping home in 4hrs 6mins and 47secs.
The Matopos 33-miler ultra-marathon was the last competition Kativhu took part in and she set an improved personal record compared to last year when she clocked 5hrs 4mins 51secs, being the only woman who finished the race. This year she got the better of Muchaneta Gwata and veteran athlete Margret Mahohoma who crossed the finishing line in 4hrs 26mins 36secs and 4hrs 43mins 46secs respectively.
The Comrades marathon will see triple winner Stephen Muzhingi, Moses Njodzi, the Harare Athletics Club runner, who is now attached to Formula 1 Bluff Meats, Point Chaza, Peter Mavura and Marko Mambo taking part.
Nhoro said they were expecting a number of seasoned long-distance athletes to take part in the marathon.
"We are expecting around 255 athletes to compete with the seasoned long-distance athletes expected to be part of the competition. We have not started the registration process, but we are bound to have a good number of athletes," he said.
Last year Nkosiyazi Sibanda successfully defended his title when he finished the race in 2hrs 19mins 11secs which was 4mins 14secs faster than the 2hrs 23mins 25secs in 2012.
He beat a field that included Leonard Koki, Collin Parura, Lyno Muchena, Charles Soza and Patrick Chipoyi.
The marathon has in the past attracted athletes from Kenya, Zambia, Scotland, Australia, Japan, Brazil, South Africa, Germany, France, Britain, the United States, Ukraine, Switzerland, Trinidad, Swaziland, Canada, Holland and Ireland.