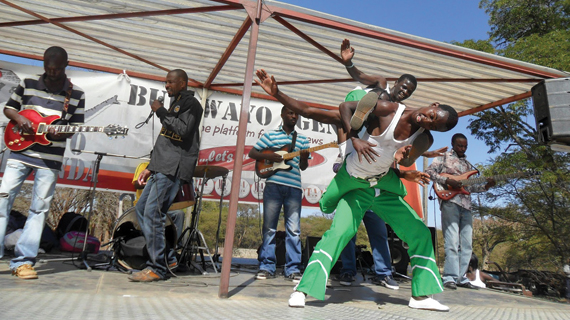 KALANGA music ace Martin Sibanda and the Ndolwane Super Sounds are set for different shows in Plumtree this weekend.
OWN CORRESPONDENT
The group, based in South Africa, performs in popular Johannesburg nightclubs frequented by Zimbabweans such as Safari club, regularly makes forays into their old stomping ground of Plumtree.
The first show is set for Friday at Dums Garden while on Saturday the group will take the act to Bennise.
It would have the last show in Dzirange on Sunday.
Thandazani Nyoni, Ndolwane Super Sounds manager, confirmed the show to Southern Eye Lifestyle and urged fans to come in their numbers.
"The band is already in Zimbabwe and is ready for the shows. Our fans should come and support us. If they support us well we will make sure to come back to Plumtree frequently," he said.
The band, which is known for its Zimbabwean rumba music or amarabi music, will also perform in the Midlands, Masvingo and Harare before heading back to South Africa.
Ndolwane Super Sounds has 14 albums and has in the past collaborated with artistes such as Allen Ndoda, Madala boy, Dupute Warriors and the late Tongai Moyo. Nyoni urged local artistes not to wait for promoters to create platforms for them, but to be innovative and create opportunities for themselves.
"There are many artistes, but a few local promoters, we cannot all wait for arts promoters who at times support foreign artistes at the expense of local talent," he said.