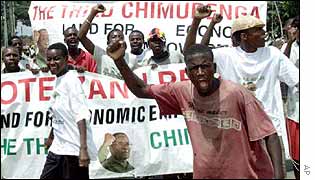 THE disruption of parliamentary hearings into the Electoral Amendment Bill by suspected Zanu PF supporters in Bubi district of Matabeleland North on Saturday cannot go unchallenged.
According to reports, the Parliamentary Portfolio Committee on Justice, Legal and Parliamentary Affairs had to abort the hearings at Inyathi Training Centre after 30 rowdy villagers stormed the venue.
Threats were issued against MPs and journalists for allegedly attending the meeting without the knowledge of local MP Clifford Sibanda and Provincial Affairs minister Cain Mathema.
The hooligans effectively denied people of Matabeleland North the chance to contribute to the Electoral Bill that is being crafted.
If the disruption was done by members of any other political party, they would all be in police custody, even those who were nowhere near Inyathi Training Centre.
This is how effective our law enforcements agents are when such crimes are committed by members of other political parties that are not Zanu PF.
Disrupting the work of Parliament is a criminal offence and the culprits should be made to account for their actions.
Some identified themselves at the meeting and there is no doubt that security agents attended the event.
Police should do their job or the allegation that they only act when it's Zanu PF opponents would stick like a sore thumb.
The Zanu PF officials, Mathema and Sibanda, whose names were used by these unruly elements, should also say where they stand regarding this matter.
Was the villagers' mission a Zanu PF programme or were they just criminals who used the party's name?
These questions need to be answered for the sake of the future.
The new Constitution gives Zimbabweans freedom of expression and that of speech and as such no one should be seen going against these ideals.
Our new dispensation is still too young to be disrupted by misfits who are obviously in the minority.