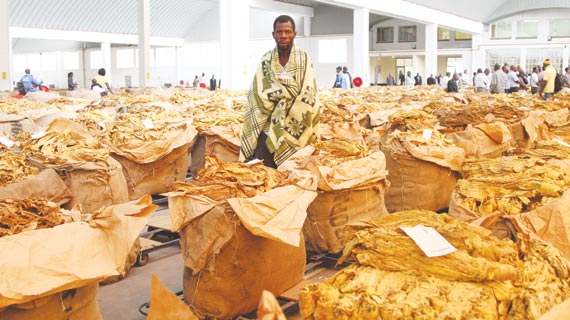 MATABELELAND small-scale tobacco farmers are expecting to harvest 1,5 tonnes of tobacco per hectare this season with an official describing the crop as top quality as the region begins to embrace the cashcrop.
OWN CORRESPONDENT
The region has not been known for growing tobacco, but a handful of small-scale farmers have ventured into the production of the crop which is largely grown in Mashonaland provinces, raking farmers millions of dollars.
Matabeleland North provincial agronomist Davison Masendeke said he was happy about the quality of tobacco in Matabeleland this year.
"There is good quality of tobacco this year and we are expecting to produce 1,5 tonnes of tobacco per hectare for small-scale farmers," he said.
"Currently we have six small-scale farmers and one commercial farmer. We are saying there is potential of growing tobacco in Matabeleland, but at the moment we are conducting evaluation to see whether is it feasible or not."
"Six farmers have got five hectares whereas Obert Mpofu (Transport and Infrastructural development minister) has 13 hectares," he added.
Masendeke said they wanted to conduct viability studies with the aim of increasing tobacco farmers in the province which they would use to influence the opening of auction floors in the region. There has been an upsurge in the number of farmers venturing into tobacco farming in Matabeleland North since last year.
Among the leading tobacco farmers in the region is Shandu Gumede, one of the pioneers of tobacco growing, who inspired Mpofu to start farming the cashcrop.
Tobacco is one of the key important cashcrop contributing 20% to the country's gross domestic product.
Meanwhile, prices at the tobacco auction floors have remained depressed resulting in a 15,5% disparity with those recorded during the same period last year.
According to the latest figures released by the Tobacco Industry and Marketing Board, the average price so far this season is $3,16 per kg against $3,74 per kg for the same period last year.
The low prices have been attributed to low quality tobacco that has been finding its way to the auction floors.