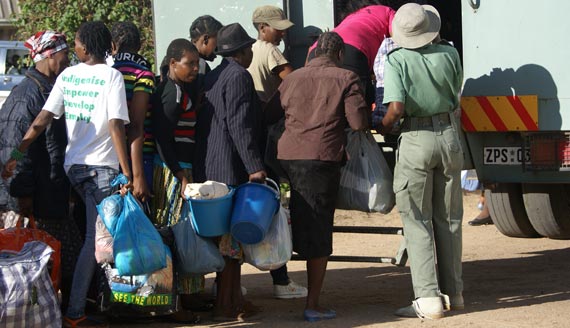 BULAWAYO senior magistrate Sibongile Msipa on Tuesday condemned the Zimbabwe Prisons and Correctional Services (ZPCS) for failing to provide inmates with jerseys for winter. SILAS NKALA STAFF REPORTER
Msipa's remarks came in the wake of one Khami Remand Prison inmate appearing before her for routine remand wearing a red and white jersey which she applauded as a good move by ZPCS.
Msipa's joy, however, turned to dismay when a prison guard in court informed her that it was inmates' relatives who supplied them with warm clothing.
When the inmate emerged wearing his prison khaki garb and a red and white jersey, Msipa had said: "Ah, prisons, now you have jerseys; that is good, we have been hearing that you do not have them; now that you provide them that is good.
"Your worship it is not the prisons which provide them; relatives who are able provide for the inmates," said the prison guard.
"Ah, I thought maybe government has now bought them; this is not good; it is not good. Prisons must provide jerseys to inmates," Msipa retorted.
In October 2013, some relatives of inmates at Khami Prison complained about the ZPCS asking them to buy prison garb which they would involuntarily donate to the prison on their release.
An elderly woman whose son was serving a seven-year jail term at Khami said her son told her that prison officials advised them to ask their relatives to buy them prison regalia as ZPCS could not afford to provide them with the uniforms.
She said she had to buy her son a blanket, a prison uniform, two white T-shirts, white tennis shoes and a white hat. She said her concern was that when he is released, they won't allow him to leave with his clothing.
She said that was grossly unfair as ZPCS had an obligation to look after the welfare of all prisoners.
Assistant chief prisons officer Simon Kaondo responded saying the responsibility to provide for the welfare of inmates, including things like prison garb and blankets, lay with ZPCS. He said these were provided religiously to both convicted and unconvicted inmates.
"However, as for jerseys, relatives usually are allowed to bring them to cushion their loved ones during winter," he was quoted as saying.
 Twitter feedback @silasnkala