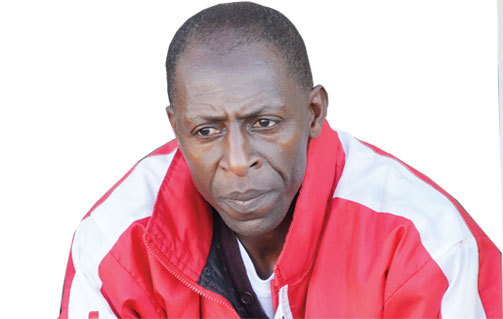 IT cannot get worse than this for Bigboy Mawiwi. Buffaloes' towering midfielder Tafadzwa Mombeshora broke the hearts of Harare City with a stunning 40m drive in a Castle Lager Premier Soccer League football match at Rufaro Stadium, Harare, yesterday to leave the Sunshine Boys firmly the owners of the last slot on the log.
TAWANDA TAFIRENYIKA SPORTS CORRESPONDENT Harare City . . . . . . . . . . . . . . . . . . . . . 0 Buffaloes . . . . . . . . . . . . . . . . . . . . . (1) 1 The goal struck on 28 minutes with both power and accuracy to beat an unsuspecting goalkeeper Muzondiwa Gonese came from an unlikely source.
Mombeshora — a former Shabanie Mine midfielder who joined his former coach Luke Masomere at the army side at the start of the season is not a usual goalscorer and described it as a special goal.
"It was just instinct. When I got the ball I just thought of shooting and it went in. It's really a special goal because I don't usually score goals, but it was a good performance by the team," Mombeshora said in a post-match interview.
Masomere said their game plan was not to concede a goal — even if they had not scored it would have been a draw.
"Our game plan was not to concede a goal. We were defensive and if we had not scored, we wanted at least a draw and I am happy we got the goal. I wouldn't want to single out Mombeshora. It was a good performance by the whole team. It gives us confidence as we prepare for the match against Dynamos."
But Mawiwi whose team missed a good number of chances which could have seen them sewing up the tie, remained upbeat. "Results will come. We remain positive ahead of our next match against FC Platinum. We created a good number of chances today (yesterday), but the players failed to convert. The players are doing their best and results will come," Mawiwi said.
Harare City started brightly carving out good chances with Martin Vengesayi, Phineas Bhamusi and James Jam coming close in the first 10 minutes of the match. William Manondo also missed a headed opportunity.
However, City were caught off guard on 28 minutes when Mombeshora beat Gonese with a thunderous long-range effort.
After that goal, the army side appeared to grow in confidence and started launching some raids into their opponents' goal.
In the second half, Harare City still enjoyed better possession, but their front runners lacked the killer punch in front of goals.
Towards the end of the match Misheck Mburayi came close with a strong shot, but the Buffaloes defence moved to clear the lines.