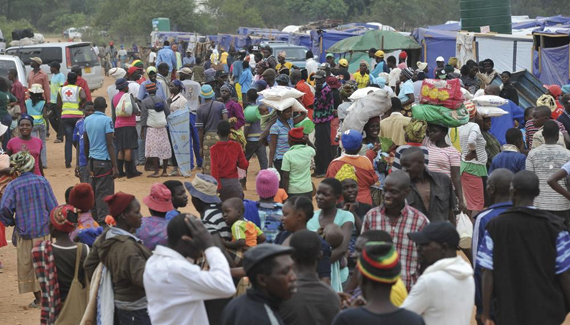 POLICE have allegedly barred thousands of Tokwe-Mukosi Dam flood victims' wives from demonstrating over a decision by the government to pull the plug on donor-supplied food handouts in a bid to force them to move out of the camp to pegged plots without getting any compensation. TATENDA CHITAGU OWN CORRESPONDENT
The villagers, whose households were flattened by the floods that rocked the province early this year, leading to loss of property and livestock, are resisting resettlement before compensation.
Of the about 20 000 people resident in the transit camp, less than 500 have agreed to move out and they were last week assaulted by others who labelled them "sellouts" for their alleged lack of solidarity.
Local Government minister Ignatius Chombo recently ordered government officials not to give food handouts to those resisting resettlement saying they should be given at the pegged plots rather than in the camp, in a bid to force them to move.
The demo was supposed to take place on Thursday at Ngundu along the Masvingo-Beitbridge highway.
The flood victims had to call off the protest after they were told they would not be cleared by police and allegedly threatened with arrest if they proceeded.
"Police in Triangle told us to apply for clearance from Chivi under which the area, Ngundu, falls. But this is all a cover-up as the authorities do not want us to express our anger over a lot of issues, chief being the decision to deny us food," one of the villagers said.
Acting Masvingo provincial police spokesperson Assistant Inspector Kudakwashe Dhewa professed ignorance of the aborted demonstration and said he was yet to get details from Ngundu.
"I am not aware of that. I am yet to inquire from Ngundu," he said.
The villagers said the government was forcing them to move out of the crowded transit camp yet they had no money to start building structures at the newly-pegged plots. However, Masvingo Provincial Affairs minister Kudakwashe Bhasikiti is on record saying villagers would still reside in tents at the new pots while the government looked for partners like banks to help construct standard houses for them.