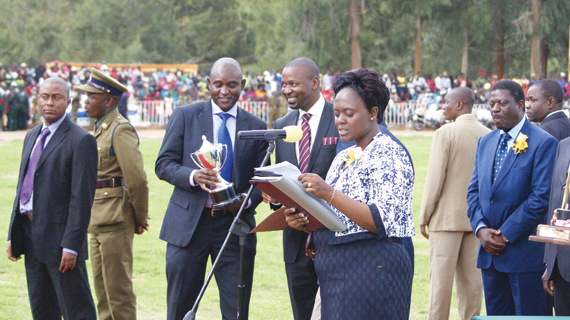 THE CURTAIN came down on the 55th edition of the Zimbabwe International Trade Fair (ZITF) yesterday with local, regional and international exhibitors expressing confidence in clinching deals after establishing firm contacts during the five-day trade and business jamboree.
Mthandazo Nyoni Own Correspondent
In separate interviews with Southern Eye Business yesterday international, regional and local exhibitors said the fair had been good in terms of business.
An official from Mimic Components Company from South Africa, Edwin Wakefield, said the fair was a success compared to last year.
"It was a very good fair because we got lots of contacts from the locals who are interested in our products," Wakefiled, who was quick to add that the Zimbabwe government should amend investment policies, said.
"For instance, we failed to conduct joint ventures with local companies because of the 51% share ownership. Zimbabwe has got a lot of talent and opportunities, but the 51% is prohibitive," he said.
A sales representative from Lobels, Emmanuel Msemwo said business was good at ZITF 2014. Msemwo said apart from local enquiries, the firm got contacts from Zambia, Botswana and South Africa.
Slungile Sluu Mokoena, a South African exhibitor who is the chief executive of Sluu Design Company, said the organisers should improve the way they organise the fair.
"The fair was good as witnessed by lots of contacts I got from the locals. However, I would like to urge the organisers of the trade fair to give tickets to exhibitors in time not what we witnessed this time where we had to queue for the tickets the whole day," she said.
An official from United Refineries, who asked not to be named, said the firm got more contacts from individuals compared to business to business contacts.
"The business was bit slow and it was not that much busy as we would like it to be.
"We managed however to get more individual contacts as compared to business to business interaction," he said.
Congo Brazzaville exhibitors said they were happy about the fair because lots of people expressed interest to come and do business with them.
Chinese officials also echoed similar sentiments saying they were looking forward to come and invest in Zimbabwe as there was strong market base.
ZITF chairperson Bekithemba Nkomo paid homage to all the exhibitors that participated in this year's event, pleading with them to return next year.
Nineteen nations, including the United States of America which had not set foot at ZITF for the past 10 years, and close to 400 firms participated in the five-day event.
Nkomo described this year's event as a formidable and growing brand in Southern Africa.
In his farewell message to exhibitors, Nkomo urged exhibitors to participate in forthcoming events that include the 19th edition of the Mining, Engineering and Transport Expo (Mine-Entra) set for July 22 to 25.
"Fifty five years is a great milestone for the company and indeed the nation as a whole. ZITF's ability to stand the test of time is largely a sue to concerted efforts by all stakeholders to continuously improve the exhibition. As always the ZITF board appreciates the continued support of our local exhibitors," he said.
South Africa's Department of Trade and Industry, which lead a group of companies to the ZITF, won the best and most outstanding foreign displays for the second consecutive year.
According to the department, export sales flowing from South Africa's participation in the fair over the last three years, as reported by the companies involved, had amounted to R6,6-million in 2011, R7,1 million in 2012 and R55,6 million in 2013.