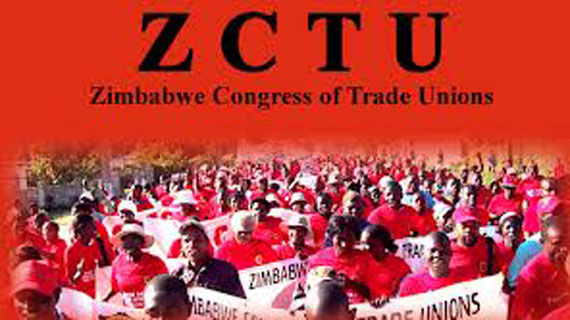 THE Zimbabwe Congress of Trade Unions (ZCTU) has urged the country's main political parties to enter into serious dialogue as a way of addressing the current economic meltdown.
EDGAR GWESHE OWN CORRESPONDENT
MDC-T president Morgan Tsvangirai is on record challenging President Robert Mugabe to approach him for dialogue claiming that he had the keys to the country's economic crisis.
Zanu PF has, however, ruled out chances of talks with Tsvangirai.
ZCTU president George Nkiwane challenged Mugabe to give way for dialogue with all concerned stakeholders as a way of averting a major economic disaster.
"It is really necessary for dialogue to take place but also, we think that this dialogue should go beyond political engagement. All the stakeholders who have something to do with the Zimbabwean politics and the economy should be given a chance to engage and map the way forward," Nkiwane said.
"At the moment, things are really bad and we have to give dialogue a chance, but let us not limit it to the political leaders only."
Nkiwane said constructive dialogue would be in the best interest of Zimbabwean workers.
"Companies are closing on a day to day basis while some are retrenching workers. So as a result workers have been badly affected by the current situation and that is why we are saying that all those who have something to do with the economy should sit down and talk," he said.
According to the ZCTU, 1,3 million Zimbabweans were formally employed in 2012, but the number dropped to 1,2 million in 2013.
The labour body claimed the numbers further dropped after last year's contested elections.
In November last year, the ZCTU said retrenchment figures in Zimbabwe had reached 300 per week.
The ZCTU forecasts that the number of unemployed people in the country was likely to increase as more companies were likely to close down due to the current economic meltdown.
Nkiwane bemoaned the lack of policy consistency in Zimbabwe's investment laws which he said was largely to blame for the lack of foreign direct investments and the high unemployment rate currently prevailing in the country.
Zimbabwe's Indigenisation policy has been largely blamed for scaring away potential investors with analysts saying it lacks clarity and creates uncertainty.
Nkiwane said: "As long as we have the current order, we will continue to see companies closing down and the economic situation deteriorating. We need a paradigm shift because with the current policies in place, we cannot attract any investment, internal or external.
"We need to have policy consistency because as long as we do not do that, no investment is going to come."
The formation of a government of National Unity between Zanu PF and the two MDC formations in 2009 was widely credited for bringing economic stability in the country after a period of hyper-inflation that relegated the majority of Zimbabweans into abject poverty.