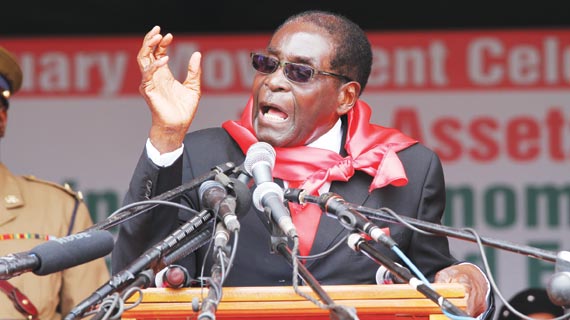 PRESIDENT Robert Mugabe's statements branding Nigerians corrupt during his 90th birthday celebrations have attracted mixed reactions with an official from the West African country's government saying although the claims were disrespectful and distasteful, they should make everyone rethink about the bad image corruption had carved for the country. STAFF REPORTER
Mugabe reportedly said: "Are we now like Nigeria where you have to reach your pocket to get anything done? We used to go to Nigeria and every time we had to carry extra cash to corruptly pay for everything.
"You get into a plane in Nigeria and you sit there and the crew keeps dilly dallying without taking off as they wait for you to pay them to fly."
In an article titled Nigeria and the Malady of Corruption on the PM News website, the principal information officer in the Lagos State Information and Strategy ministry, Rasak Musbau, said the extent of corruption in Nigeria was slowing down the progress of the country.
"For the progress of our nation, it is imperative to raise a critical mass dedicated to restoring the destiny of Nigeria by living above corruption, fighting corruption and conquering corruption," he wrote.
"As followers, when we are ready for change and live for change, our rulers will find it increasingly hard to block our aspirations.
"The recent statement credited to the president of Zimbabwe, Robert Mugabe, concerning the prevalence of corruption in Nigeria, though disrespectful and distasteful, should be enough to make everyone have a rethink about the bad image corruption has carved for us in the comity of nations."
However, in another article published on the Codewit World News website titled Robert Mugabe: Fighting Nigeria @90 the publication said the Zimbabwean leader's statements were incompatible with his office.
"He never paid for anything in Nigeria. We paid Zimbabwean freedom fighters to snatch their country, the then Southern Rhodesia from Ian Smith's illegal government (Smith unilaterally declared independence from Britain and imposed an apartheid type government).
"Nigerians mobilised international opinion in favour of Zimbabwean guerrillas who operated from Mozambique. We granted Zimbabweans scholarships, paid their leaders allowances and made our airplanes available for their use," the article read.
"President Shehu Usman Aliyu Shagari was among the 100 000 at Rufaro Stadium in Harare to celebrate Zimbabwe's freedom.
"He donated $15 million to Zimbabwe to train its students in Nigeria, its workers at the Administrative Staff College of Nigeria in Badagry, and its soldiers at the Nigerian Defence Academy in Kaduna. We are witnessing Mugabe's gratitude.
"Dictatorship, unknown to Mugabe, who is wired to numerous corruption scandals, is also corruption.
"At 90, it is unfortunate that Mugabe has riveted his attention to attacking Nigeria.
"He has wasted Zimbabwe, ruined its future, but he fails to notice the corruption he has installed over 33 years.
"Nigeria should protest the Mugabe affront more vehemently."