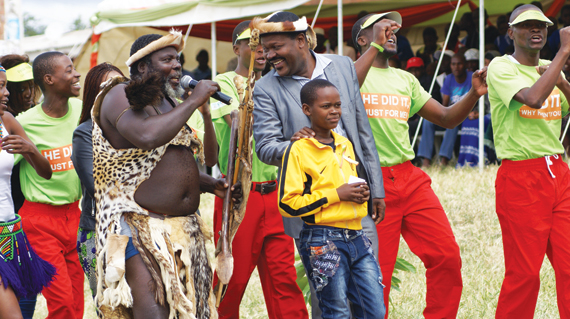 BULAWAYO, Matabeleland North and South provinces have been rated as leading areas in which males are being circumcised countrywide compared to other provinces.
LUYANDUHLOBO MAKWATI OWN CORRESPONDENT
Matabeleland North provincial medical director Nyasha Masuka told members of the public at Lobengula Clinic in Bulawayo yesterday where dub poet Albert Nyathi and his son Mthabisi were circumcised that they were happy with the response and the uptake of the programme by the people of Matabeleland.
Nyathi and his son were circumcised at the site using a new painless method of circumcision known as prepex under which there is no cutting of the foreskin.
The method was being launched in the Matabeleland region for the first time by Population Services International (PSI) and is set to be rolled out to other areas.
Instead of cutting the foreskin and bandaging the patient, the new method takes about four minutes. A ring is inserted on the penis under the foreskin before an elastic rubber band is put on top of the foreskin following the groove of the ring.
The ring and rubber band prevent blood from circulating to the foreskin and within six hours, it will start to die.
After seven days, the foreskin would be completely dead and the patient then goes to the clinic to have the ring removed after which the dead foreskin falls off.
The patient continues to pass urine naturally during the time he would be wearing the ring.
Soon after undergoing the circumcision, Nyathi said : "I am happy about this new method because it's not painful at all. All I can say is that there is a bit of some discomfort on my penis because it is not used to this ring that they have fitted, but I am well.
It's not painful that is why you are seeing me dancing with everyone," Nyathi said.