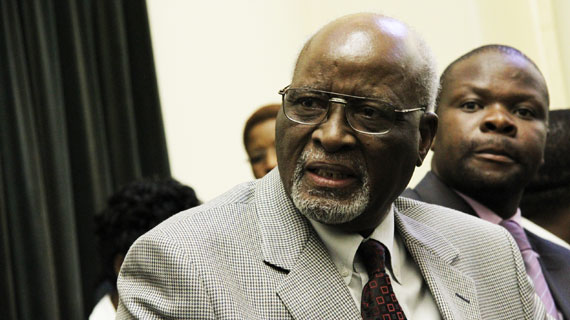 HWANGE regional magistrate responsible for the western division Dambudzo Malunga on Monday cancelled an arrest warrant against former Zipra commander and the late Vice-President John Landa Nkomo's chief security officer Eddie Sigoge who had skipped court in February to undergo a hip operation.
RICHARD MUPONDE SENIOR COURT REPORTER
Sigoge was to be sentenced on February 7 on attempted murder charges, but did not turn up as he was admitted at Mater Dei Hospital in Bulawayo and a warrant of arrest was issued against him.
He allegedly shot and wounded one person in a farm dispute in the Gwayi Conservancy five years ago.
The farm dispute was between Nkomo and Langton Masunda.
Sigoge, who was accompanied by his lawyer Tanaka Muganyi, appeared in court walking with the aid of crutches.
After the cancellation of his arrest warrant, judgment on the matter was deferred to May 30 to give him time to recover.
Sigoge (66), a retired army colonel from Lobengula West in Bulawayo, is accused of shooting Patrick, the brother of Langton and firing shots at a vehicle with seven other occupants who were ferrying the injured Patrick to hospital.
Nkomo's dispute with Langton was over the ownership of Jijima Lodge and the 611,79 hectare safari farm it is situated on.
Sigoge pleaded not guilty to eight counts of attempted murder and unlawful possession of a firearm.
He is out of custody on $100 bail.