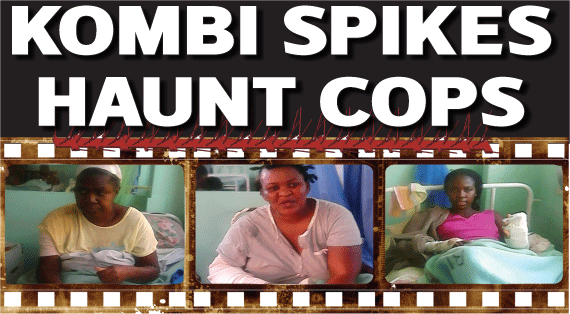 RELATIVES of four passengers who were seriously injured when police manning a roadblock along Khami Road in the city threw spikes in front of a moving commuter omnibus have engaged the Zimbabwe Lawyers for Human Rights (ZLHR) to them sue the cops.
SILAS NKALA STAFF REPORTER
The relatives want the police to compensate the accident victims and to foot their medical bills as they remain admitted in a critical condition at Mpilo Central Hospital about a fortnight after the accident.
ZLHR lawyer Lizwe Jamela accompanied by an official from Zimbabwe Human Rights (ZimRights) visited the four victims, Ntandoyenkosi Nkomo, Nokuthula Mabhena, Esnath Phiri and Emmaculate Ndlovu at Mpilo Hospital's Ward C1 yesterday.
Their conditions appeared serious and some of them would need skin grafting.
Mabhena said it was sad that they had spent two weeks in hospital and were still in a lot of pain.
"We have spent two weeks here now and all our programmes are stagnant because of a selfish police officer," she said.
"I am still felling pain as I was seriously injured on the arm and there is not much improvement."
Nkomo said she was improving a bit although she was still in a lot of pain.
Ndlovu, who is a student at the National University of Science and Technology said: "I am still feeling a lot of pain and the doctor said I must go to theatre tomorrow (today) as I may need a skin graft because I was seriously injured.
"They want $100 to do the procedure but I do not have it."
Jamela told the four that the ZLHR would today write a notice to sue the police and it would be served on the force later after consultations with doctors regarding medical expenses.
He said they would file a lawsuit detailing each of the victims' expenses, including man hours lost during their detention in hospital.
"We want to see to it that the police compensate you for what they did because you were not the ones who had an offence but they risked your lives by such careless actions," said Jamela.
"I will be writing a letter of notice to sue the police tomorrow (today) which we will then serve them. We will liaise with doctors on all the expenses you incurred so that the police compensate you. You have to keep each and every receipt of the money you footed here."
Jamela told Southern Eye that some victims might suffer permanent disability and the police had to compensate them for that.
"The loss of time for their personal programmes will have to be compensated for as well.
"Most of the expenses will be clear after the victims have recovered," he said.
Sixteen commuters were on board the kombi when it overturned after its tyres were deflated by spikes thrown onto its path by police manning a roadblock at the Khami flyover bridge in Kelvin.
The kombi overturned three times before stopping at the edge of the bridge.
The police blamed the driver of the kombi Nqobile Moyo (23) for negligence.
Moyo of Entumbane appeared in the Western Commonage Magistrates' Court last week facing charges of reckless driving, operating off-route and driving without a defensive certificate,.
He was also charged for driving a commuter omnibus while under the age of 25 and driving a public service vehicle without medical endorsement. He is out of custody on free bail.