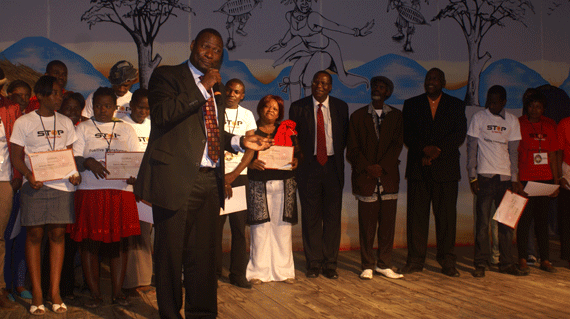 THE Inxusa Arts Festival was on Tuesday night relaunched amid pomp and ceremony at the Amakhosi Cultural Centre after a 15-year sabbatical.
Luyanduhlobo Makwati Own Correspondent
Information Media and Broadcasting Services deputy minister Supa Mandiwanzira officially relaunched the festival in which guests were treated to scintillating theatre and music peformances.
There were breathtaking and captivating performances by artistes on the night, much to the delight of an appreciative crowd.
Mandiwanzira applauded Amakhosi and its director Cont Mhlanga for reviving the festival saying it showed how rich Zimbabwe is as far as culture is concerned.
"We are delighted with the way Inxusa has been relaunched this year. I would like to tell you that our ministry is in full support of all cultural activities happening in the country," he said.
Mandiwanzira urged artistes to take art seriously, saying more broadcasting stations would be rolled out soon.
"We are looking forward to producers that will provide storylines that link to our people directly and in this instance we need movies and drama's about Umdala Wethu Joshua Mqabuko Nkomo because those are the stories that people will understand and follow," he said.
Artistes who graced the occasion said they were happy with the level of professionalism that had been brought to Inxusa by organisers who have managed to partner with local and foreign universities in a bid to develop the country's arts sector into a professional industry.
Some of the universities that have partnered the festival include Chinhoyi University, the Midlands State University and the University of Zambia.