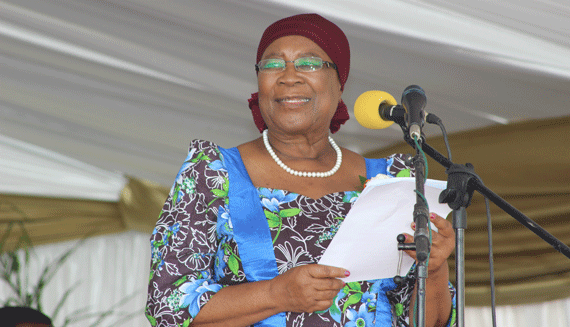 BULAWAYO Provincial Affairs minister Eunice Sandi Moyo has come under fire from pressure groups in the city over her refusal to back proposals that locals be given preference in employment and education opportunities.
NQOBILE BHEBHE CHIEF REPORTER
The group said Moyo's statements in the National Assembly last week showed that she was not in touch with developments in her province.
Mbuso Fuzwayo, secretary-general of Ibhetshu Likazulu, accused Moyo of perpetuating marginalisation of locals and fuelling unemployment in Bulawayo.
He said she was quick to draw the tribal card to hide her glaring incompetency.
"Her remarks are not surprising at all. She was obviously singing for her supper and securing future appointments and not wanting to disturb the status quo," said Fuzwayo.
"Moyo is safeguarding and representing the interests of her master at the expense of Matabeleland people. She is only saying she is not a tribalist as a means of shielding herself.
"She wants to appear as a nationalist safeguarding the non–existent unity accord," he added.
"If the unity accord is binding, why is that politicians are talking about it only in Matabeleland and not in other areas?
"Does she think she can be appointed a governor in Mashonaland East and expect people there to accept that?
"Does she expect people from Bulawayo to troop to Manicaland and be enrolled in tertiary institutions there?
"We suffer from lack of representation and she should simply step down or at least make an apology," Fuzwayo said.
Moyo told the National Assembly last week that she was not a tribalist hence she would not support calls for the people of Bulawayo to get preference in employment, training or education in the province's institutions.
She was responding to questions posed by MDC-T MPs Ruth Labode and Dorcas Sibanda who had asked her to respond to concerns that Bulawayo residents were often overlooked for jobs and places at institutions of higher learning.
Khanyile Mlotshwa, a post-graduate media studies student at Rhodes University in South Africa said Moyo simply admitted that she was not a leader.
"It is not clear if at all Moyo understood the questions from the MPs. It is also not clear what she meant when she said she is not a tribalist," he said.
"The questions by the MPs were around leadership, what she is doing as the political head of Bulawayo province to take care of Bulawayo citizens.
"It is clear that the questions were on her leadership efforts. In that context then, her response that she is not a tribalist is simply an admission that she is not a leader.
"Issues of courage do not arise in this context; she is simply not a leader."
Mlotshwa added that the claim that she was not a tribalist, when no one had accused her of tribalism, was just an excuse for her dereliction of duty.
"In her role as a presidential appointee, the only thing she is prepared to do is to withdraw her salary from the bank only," he said.
Earlier this month, a Bulawayo magistrate convicted leaders of a local pressure group, Mthwakazi Resolution, for staging an illegal protest after they demonstrated against alleged plans by Zesa to hire 300 general labourers from outside the city last year.