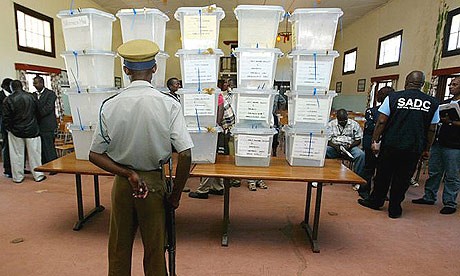 THE voters' roll to be used in the Mkoba Ward 12 by-election scheduled for April 12 contains a lot of irregularities, an MDC-T official has claimed.
STEPHEN CHADENGA OWN CORRESPONDENT
Mkoba MP and MDC-T national executive committee member Amos Chibaya yesterday told a press briefing that the voters' roll was flawed as it contained names of dead people as well as those residing outside the ward.
"We have people like Landeni Banda of 2433 Mkoba 7 who died in 1998, Mbano Ruth of 2647 Mkoba 7 who passed away in 1997, Grace Solani Mashizha of 1964 Mkoba 6 who died in 2006 and Calisto Fidelis Makore of 2809/2 Mkoba 7 who also died the same year yet they still appear on the roll," he said.
Chibaya said other people were also registered twice with the same national identification number, but different sexes.
"Ellen Nyaradzo Nduna from Mkoba Teachers' College is registered twice with the same national ID number, but as both a female and male," he said.
Chibaya said it was disturbing that the Zimbabwe Electoral Commission (ZEC) was failing to clean up the voters' roll, adding that the country was "miles away" in terms of holding free and democratic elections.
The MDC-T legislator said his party would raise the issue with the district elections officer and ZEC boss Rita Makarau.
The by-election would be contested by Zanu PF's Charles Simbi, Richard Ndlovu of the National Constitutional Assembly and Fortunate Chiokoyo of MDC-T.