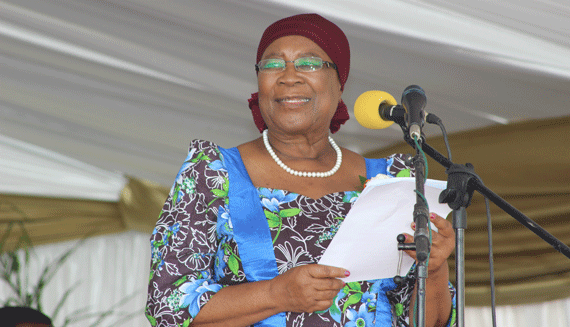 BULAWAYO Provincial Affairs minister Eunice Sandi-Moyo has refused to back proposals that locals should be given preference in employment and education opportunities.
Staff Reporter
Moyo told the National Assembly last week that she was not a tribalist hence she would not support such calls.
She was responding to two separate questions by MDC-T MPs Ruth Labode and Dorcas Sibanda who had asked her to respond to concerns that Bulawayo residents were often overlooked for jobs and places at institutions of higher learning.
First to seek Moyo's response to the issue was Labode who asked: "In Ndebele there is a saying that says: 'the inheritance of the foolish is bequeathed to the clever'. People who are being employed in Bulawayo are people from outside. How do you intend to handle this issue?"
The Zanu PF politburo member shot back saying: "First of all, I am not a tribalist.
"Secondly, I serve Zimbabwe. Thirdly, I will support anyone who has the right documents to occupy a vacancy."
Sibanda, the Bulawayo Central MP, who has in the past complained about what she termed biased recruitment of student nurses at Mpilo and United Bulawayo Hospitals appeared not satisfied with the answer.
She asked Moyo if the recruitment of students at tertiary institutions in the city was in the spirit of devolution of power.
"It is in the Constitution that each region benefits, this is what they are calling devolution," Sibanda said.
"That is why in the Constitution, they are saying that people should benefit from the resources from their areas.
"Minister, looking at training institutions like Mpilo and teacher training institutions like Hillside Teachers' College and other teachers' colleges in Bulawayo, comparing them to other training institutions like Ntabazinduna and other colleges, if you look at the number of students who attend those colleges, looking at all those institutions that I have mentioned, three quarters of the students in those institutions do not come from the Matabeleland provinces where those institutions are.
"You will find that some come from Marondera and other places," she added before asking: "Has anything been done to decentralise like what was agreed in the Constitution?" Again Moyo's response was very curt and brief.
"She spoke in Ndebele, so I will also speak in Ndebele," the minister charged.
"Firstly, to be a Minister for Presidential Affairs means that you co-ordinate issues from different ministries.
"Secondly, hospitals, schools and other institutions that you are talking about, there are ministries that are responsible for them.
"There are ministers who have been appointed by the leader of this country to lead these different ministries."
Buhera South MP Joseph Chinotimba is the only legislator who tried to join the debate saying: "I think the issue of tribalism is taking precedence here because we are addressing issues of natural resources.
"Hospitals cater for everyone, despite tribe."
Early this month a Bulawayo magistrate convicted leaders of a local pressure group, Mthwakazi Resolution, for staging an illegal protest after they demonstrated against alleged plans by Zesa to hire 300 general labourers from outside the city last year.