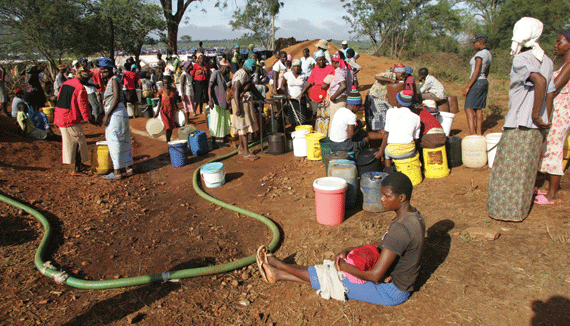 A DIARRHOEA outbreak has reportedly hit Chingwizi transit camp where 3 400 families displaced by the Tokwe-Mukorsi Dam floods in Masvingo are temporarily sheltered.
Everson Mushava STAFF Reporter
Health officials who spoke on condition of anonymity, told our sister paper NewsDay yesterday that they were attending to an average of 100 dysentry patients at the camp.
Villagers said they suspected that the diarrhoea could have been caused by contaminated water and wet food supplied by donor agencies.
The out break comes hardly a week after a heavy storm razed down most tents at the site, leaving the residents and their food in the open.
"We are battling to contain diarrhoea," the official said but ruled out chances of a cholera outbreak. "It is likely being caused by drinking warm water. Germs are active in warm temperatures. The place is naturally very hot."
Mwenezi district administrator Stanley Chamisa told NewsDay last week that the transit camp holds over 3 400 families evacuated from the Tokwe-Mukorsi river basin.
Chamisa was not picking calls yesterday.
The victims are fed on food handouts by donors while most government workers offering various forms of assistance to the victims at the camp are regularly fed on game meat.
The government workers have not been spared by the diarrhoea, NewsDay has established.
Yesterday morning, there were reportedly over 80 patients, most of them children suspected of suffering from diarrhoea, queueing to get treatment at the makeshift clinic.
Following last week's heavy rains, two children reportedly succumbed to pneumonia and malaria.
There are fears that if the government fails to resettle them in time, the victims would be exposed to more health risks.
Already, there are doubts the resettlement of the victims could be done any time soon as it has emerged that the area earmarked for resettlement had huge diamond deposit.
Officials from the Lands ministry, who were deployed to resettle the victims, have been forced to abandon work several times following "instructions" from "above" as suspected politicking is subjecting the flood victims to more fresh problems.