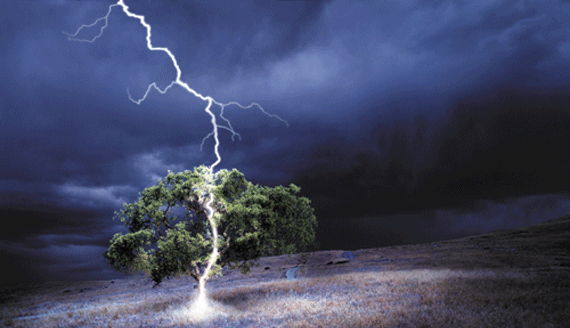 LONDON — If you play the lottery, you've probably had a friend or loved one tell you: "You've got a better chance of being struck by lightning."
Now, some think that chance is getting higher — at least in some parts of the world.
According to BBC News, a number of weather experts in the tropical climes of Africa, Asia and South America claim to have observed an uptick in the number of lightning fatalities in recent years — a phenomenon they say could have something to do with climate change, deforestation, population growth, or a range of other factors.
"The frequency of lightning has somehow increased from what it used to be," Michael Nkalubo, commissioner at Meteorological Department of Uganda, said.
"I cannot say that a study has been carried out on this, but I am saying this on the basis of my general observation."
Uganda is regularly visited by lightning storms, so is South-east Asia.
"It is a growing problem in the region," Hartono Zainal Abidin, a meteorologist in Malaysia, said.
"Lightning incidents are indeed going up, and so are the deaths and injuries, but the problem is many countries in the region including Cambodia, Vietnam and Thailand don't even have proper experts and so the issue is left unaddressed."
Increased lightning fatalities have also been reported in South Asia and Latin America.
Thunderstorms are most common in the subtropics, the climate host to the most developing countries.
Meteorologist Ron Holle told BBC that lightning fatalities were on the rise, not just in Uganda, but throughout Africa.
"In the last 10 years our finding in Malawi, Swaziland, Zimbabwe and some parts of South Africa is that the lightning fatality rate is what it used to be in the US 100 years ago," he said.
"We have seen a major reduction, to almost a zero, in the developed world. In contrast, in the developing world, people still are involved in labour intensive agriculture and are living in houses that have no lightning protection."
But Robert Holzworth, a professor at the University of Washington who heads up the World Wide Lightning Location Network, says lightning detection is becoming more effective. His network is picking up on more lightning strikes than ever before, but Holzworth says there's no evidence that thunderstorms are becoming more frequent.
"What we found was that in the last several years, the number of thunderstorms in the world seems to be relatively stable."
– UPI