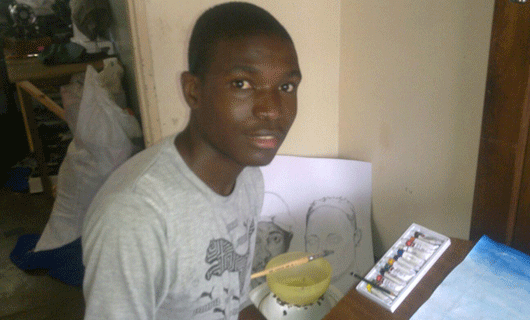 A TALENTED upcoming Bulawayo painter, Great-joy Ndlovu, hopes to mesmerise visual arts enthusiasts with his captivating and unique painting talent when he gets the chance to exhibit at the National Art Gallery of Zimbabwe in Bulawayo in the next few weeks.
SHARON SIBINDI Own Correspondent
The rising painter started painting at a tender age and later developed a passion at Cyrene High School in Matobo, Matabeleland South where he did secondary education.
Ndlovu, who prefers to be called by his first name, is presently working on finishing a portrait of African hero and South Africa's first black president Nelson Mandela who passed on last year.
"I am working on finishing the portrait of the late Nelson Mandela which is a symbol of love in Africa," the ambitious painter told Southern Eye in an interview yesterday.
Great-joy specialises in doing paintings for people and other inanimate aesthetic cultural values of life in Africa.
He would soon be showcasing his artwork at the National Art Gallery in Bulawayo and is hoping that his portraits would woo some tourists and other people from different parts of the country.
"I think of anything at times, then do my art work in pencil or brush paint. At first I did art for fun then realised a lot of people loved my work which later motivated me. I realised art would take me somewhere and I had to pursue that as a career," he said.
He said he does his painting at home has faced some challenges in his long walk and lack of capital was the major one.
"Lack of capital has pulled me back and some of my paintings are not complete because I have run short of some material. Some of the material is too expensive or even scarce to find," Ndlovu said.