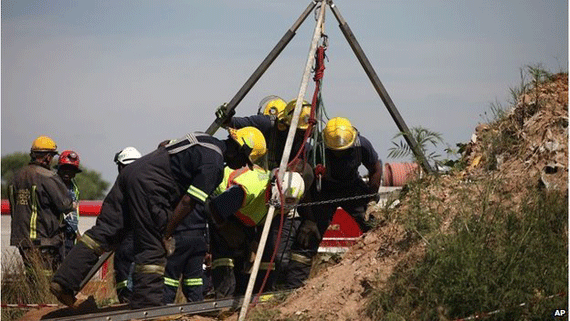 BULAWAYO EAST MP Tabitha Khumalo has been deployed by her MDC-T party to receive the 22 bodies of illegal Zimbabwean miners who died in a disused mine shaft in South Africa.
LINDA CHINOBVA OWN CORRESPONDENT
The miners died after inhaling poisonous carbon monoxide in the disused mine shaft in Roodepoort, west of Johannesburg.
Khumalo told Southern Eye that she felt honoured to be selected to welcome the deceased's remains tomorrow morning at the "Welcome to Bulawayo" signpost along the Gwanda road.
"I feel much honoured to welcome the deceased Zimbabweans. I will welcome them when they enter Bulawayo along the Gwanda road and escort them out of Bulawayo when they leave for their various burial sites," Khumalo said.
She said she would be welcoming the bodies with a heavy heart filled with sorrow because the 22 would probably have been alive if the government had created employment opportunities for them in the country.
"As a mother, my heart is very heavy with sorrow because some of the deceased are as young as 21 years and could have been working in Zimbabwe if jobs were made available for them," she said.
Khumalo said it was disheartening that the country had sentenced some of its citizens to death by forcing them to work under harsh and dangerous conditions just to earn a living outside the country.
Meanwhile, the funeral parlour, Kings and Queens, which is helping in repatriating the bodies of the 22 from South Africa, said they would not only be bringing the bodies into the country, but would also ferry them to their burial spots in their respective home areas.
Kings and Queens chipped in with a R78 000 donation, including providing coffins for all the 22, to help in the repatriation of the bodies after learning of the tragedy that had befallen the miners.
Those who will be ferried to Nkayi under Chief Madliwa include Mpilo Siziba, Kwanele Siziba, Ndumiso Siziba, Melusi Siziba, Mthandazo Ncube, Mehluli Ncube, Danisa Ncube, Carrington Siwela and Brighton Mlambo.
The ones to be taken to Gokwe South under Chief Makore are Dickson Gumbi, Life Ndlovu, Mjombi Mpofu, Edward Ncube and Nqobani Mlambo.
Related Topics