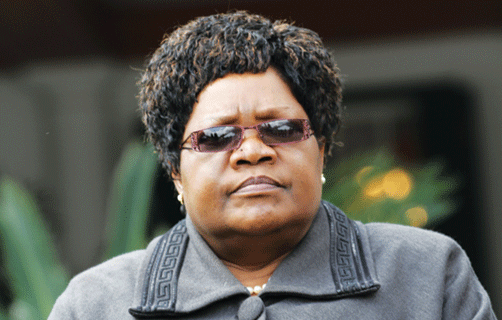 VICE-PRESIDENT Joice Mujuru yesterday bemoaned the little revenues diamond sales contributed to the national fiscus saying they generated less than $200 million per annum.
RICHARD MUPONDE/ NOKUTHABA DLAMINI
Officially opening a two-day Chamber of Mines conference in Victoria Falls yesterday under the theme "Beneficiation, maximising value from the mining sector in Zimbabwe", the VP said there was need to add value to the minerals before exports.
Mujuru's sentiments fed into repeated allegations that the country is not benefiting much from the sale of the gems due to smuggling.
A report on the global diamond trade by the World Policy Institute last year exposed how illicit and corrupt deals facilitated by international groups resulted in the plunder of Zimbabwe's diamonds.
The report revealed a complex structure of diamond deals and dealers that span the globe, looting the country's diamonds for the benefit of a corrupt few officials.
"Mining currently contributes 15 % of GDP (gross domestic product) and contributes 45% of exports at $1,7 billion per annum. Diamond income to the government at the moment does not exceed $200 million. To us this is disappointing for a country that is so rich in minerals," Mujuru said.
"Our leaders have agreed that beneficiation and value addition should be an indispensible part of Africa's development agenda and a necessary ingredient for industrialisation.
"The mining sector is critical to our economic recovery as pronounced by President Robert Mugabe in his inauguration speech in 2013. ZimAsset set the agenda for economic development from October 2013 to December 2018. It defines the aspirations of the government and those of their people."
She added that minerals should not only benefit the elite, but must be enjoyed by all citizens of Zimbabwe.
Mines minister Walter Chidhakwa said mining links to other sectors like agriculture should be developed to improve the economy.