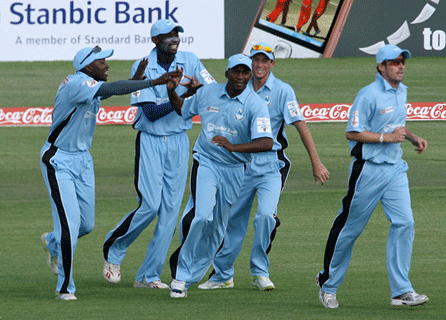 BULAWAYO — A collection of useful contributions from Matabeleland Tuskers batsmen outscored the Mountaineers by 10 runs in Bulawayo on Saturday.
After losing the toss, six of the Tuskers' top seven batsmen made it to 25, but Sean Williams' 39 was the top score. They also benefitted from 24 runs in extras, of which 22 were wides.
Tuskers ended with 227 for nine in 50 overs, with Tendai Chatara and Donald Tiripano taking three wickets each for Mountaineers. During the chase, Mountaineers slipped from 42 for one to 72 for four, but recovered through a 108-run stand between Mark Pettini and Forster Mutizwa.
Williams was at the fore for the Tuskers once again, dismissing Mutizwa (41) and Shingi Masakadza in the 41st over. However, with Pettini firm at one end, Mountaineers needed 29 off 34 balls with four wickets in hand.
Williams then had Natsai Mushangwe stumped and Kevin Kasuza caught behind in successive overs, eventually finishing with 4 for 34 in 8,4 overs.
When Pettini was finally dismissed, for 91 off 96 balls, Mountaineers were 209 for 9 and there was too much to do for the last wicket. Williams claimed the final wicket, dismissing Mountaineers for 217, to cap an impressive all-round performance.
Zimbabwe's domestic season began with Southern Rocks edging Mashonaland Eagles by five runs at the Masvingo Sports Club.
Chasing 246, Elton Chigumbura's 66 helped Eagles recover from a shaky start and the team managed to get close to a win, reaching 235 for 8 in the 48th over.
However, Tinashe Panyangara dismissed Brighton Mugochi and Admire Manyumwa in the 48th over to leave Eagles stranded at five runs from victory.
Rocks, choosing to bat, were propelled by an 87-run stand for the fourth wicket between Prince Masvaure and Richmond Mutumbami, who top-scored with 69. Nathan Waller was the pick of Eagles' bowlers, finishing with 5 for 63.
The domestic season continues today with Tuskers and Mountaineers shifting their attention to the four-day Logan Cup competition starting at the same venue today while Rocks host Eagles in Masvingo.
However the franchises will have to do without their national team stars who are part of the 15-man squad for the ICC World Twenty20 competition.
"Those players who are in the national squad for the International Cricket Council World Twenty20 Bangladesh 2014 tournament will just turn out for their franchise Pro50 matches and then return to Harare for the national squad camp." ZC's media and communications manager Lovemore Banda said.
— Sports Reporter/ESPNcricinfo