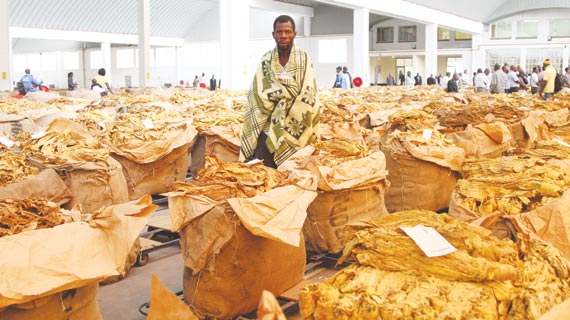 THE 2014 tobacco marketing season officially opened yesterday with an opening price of $4,85 per kg of the golden leaf.
Tarisai Mandizha Business Reporter
About 180m kgs are expected to be delivered at the country's three auction floors as the sector continues on a growth trajectory. Last year, farmers failed to meet a target of 170m kg after they delivered 166m kg.
Speaking at the official opening of the 2014 marketing season Acting Agriculture and Irrigation minister Ignatius Chombo said the agriculture sector was expected to grow by 9% with tobacco as the main player.
Chombo said about 50% of the population was now dependent on tobacco earnings, adding that tobacco was now contributing around 20% of the Gross Domestic Product. He said the sector accounts for 40% of exports and supplies 63% of raw materials for agro industries.
Speaking at the same event, Tobacco Industry and Marketing Board (TIMB) chairperson Monica Chinamasa said the industry was geared for another tobacco marketing season on the basis of the foundation laid over the last years to ensure orderliness in the selling of tobacco.
"The set target for this year, for now will work with 180m kg," she said.
Chinamasa said more than 88 000 growers had registered as compared to about 65 444 who had done so at the same time last year.
"Notably, the tobacco industry has continued to grow, with large numbers of farmers from non-traditional tobacco growing areas registering to grow tobacco for the first time," she said.
Chinamasa said out of the registered growers, 26 816 were new growers.
She said the growth in the tobacco sector was largely attributable to support provided by contractors.
"Of these, more than a 1 000 are new growers from Masvingo, Midlands and Matebeleland North provinces, areas which were previously non-traditional tobacco growing areas," Chinamasa said.
She said contractors had supported more than 54% of the current registered growers and funded 72% of the total planted area for the 2013-2014 season.
Chinamasa added that during the previous season contractors accounted for 68% of all tobacco purchases up from 63,7% in the prior year.
"I do hereby urge all growers to aim for continuous improvement in the quality of their tobacco as the best way of getting the best for their quality efforts and rewarding the contractors for their continued support," she said.
Chinamasa said TIMB had instituted systems to evaluate the performance of contractors in terms of cost of inputs and the timeliness of disbursement of inputs to farmers. She said for this year's marketing season TIMB had licensed three auction floors, 20 companies as 'A' class or auction floor buyers and 15 contractors for this year marketing season.
"One company applied for and has been authorised to buy tobacco from its contracted farmers in Karoi, Rusape and Mvurwi while another will be buying from Karoi only," she said.
Chinamasa said one company had been licensed as a sole buyer of burley tobacco while another one would be a sole buyer of dark air-cured tobacco.