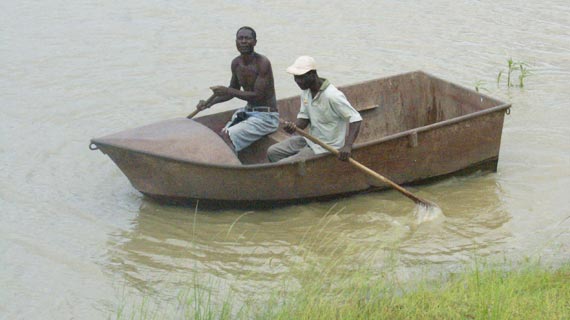 KAMATIVI – RESIDENTS of the disused Kamativi Tin Mine are living in fear of crocodiles which have so far killed more than ten people at Kamativi Dam while on fishing expeditions while more than 100 people have escaped death by whisker.
RICHARD MUPONDE SENIOR REPORTER
Eight residents recently lost their limps due to attacks from the marauding crocodiles as the impoverished former workers of the Kamative Tin Mine have resorted to fishing in desperate attempts to put food on the table.
The mine, a once vibrant tin mining town and the biggest mining venture in the sub Saharan Africa, shut down in June 1994 shattering the lives and fortunes of many families.
After its collapse, people in the mining compound now eke a living through fishing expeditions in the crocodile-infested Kamativi Dam where many people have lost legs and arms as they push themselves deeper into the dam for a good catch because of hunger back home.
But residents that spoke to a Southern Eye crew in the area yesterday said they had no choice but fish in the "killer" dam as they try to fend for their families as poverty, misery and utter dejection take toll on the long suffering former Kamativi tin mine workers.
They recounted in separate interviews how more than 100 people have been attacked by crocodiles, fatally mauling ten with eight others losing body parts.
Residents recounted heart rendering stories of how people lost their lives in search of a decent living with the remaining staring death every day in search of fish in the crocodile-infested dam.
Timothy Mvula (53) a former plumber at the mine before its closure 20 years ago related a sad story of how he lost his limp after being attacked by a crocodile in 2008.
"It was my first time to go fishing as things had become bad at my home. I went out with two of my friends to the dam to fish so that I could sell my catch to provide for my family," said Mvula.
"However, I was unlucky as a crocodile came from behind while I was standing in the shallow waters. It pushed me deeper into the water to waist level and grabbed by right leg. It twisted its body breaking it on the knee joint and angle and that was it. I cried out to my friends who had run away and one of them gathered courage and came to help me. I managed to break free but my limp was gone," said Mvula sorrowfully.
Mvula is now walking with the aid of clutches and his life is now depended on well-wishers.
Freeman Banda, the chairman of Kamativi Early Settlers Development Organisation (KESEDO), said the dam was indeed a death trap for people and livestock.
"Just on Friday we wrestled a cow's carcass from the jaws of the marauding crocodiles as they were trying to drag it deep into the water. This is a daily occurrence. As for people many have lost their lives here. Many suffered serious injuries. The crocodiles are too many and can number up to about 500 or more".
A fisherman, Petros Kamanga (56) who was paddling a metal boat in the dam while fishing together with his friend, Kenneth Tembo (48) said they were fishing at their own peril.
"We fish using hooks while in this boat but those who use nets are the most venerable to the marauding crocodiles," said Kamanga.
"Parks and Wildlife officials were advised about the problem and they came here but failed to remove even one crocodile. The problem we now have is that the crocodiles are migrating to other small dams surrounding Kamativi, making all the water bodies dangerous to people and livestock".
Parks spokesperson, Caroline Washaya- Moyo could not be reached for comment by the time of going to Press.
Kamativi dam was built by the mine to provide water for its operations and employees and two crocodiles were reportedly introduced by a white manager, identified as Mr Queen to discourage fishing.
However, over the years the reptiles' population has ballooned up to an estimated number of over 500.
Before its closure 20 years ago, Kamativi used to employ more than 4 000 people. The government has said it has plans to reopen the mine in Matabeleland North after reportedly finding a South African investor. About $50 million is required to resuscitate operations at Kamativi Tin Mine.