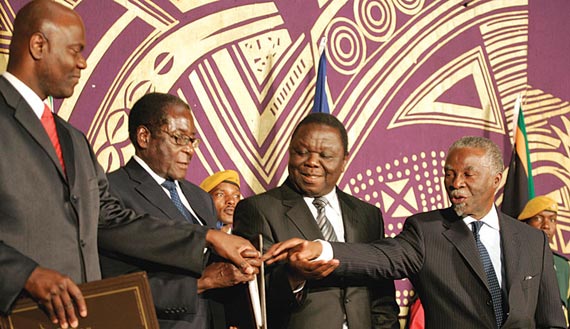 FORMER Bulawayo deputy mayor Alderman Charles Mpofu on Tuesday lashed out at the political parties that were signatories to the Global Political Agreement (GPA) that gave birth to the Government of National Unity (GNU) for retaining their principals despite their failure to extricate Zimbabwe out of its current economic and political quagmire. SILAS NKALA STAFF REPORTER
Mpofu, who was deputy mayor from 2003 to 2004 having first become a councillor in 1991, said the country was in its current mess because of the failure to effect leadership renewal.
"The people that we have voted for are not worth leading us," he said.
"We seriously need leadership renewal in all political parties, especially those that were in the GNU. Some of them went into power in order to get women, money and cars at the expense of the welfare of the people who voted for them."
Mpofu said he shared the same feelings with MDC-T deputy treasurer-general Elton Mangoma, Ian Kay and Roy Bennet who have openly called for party leader Morgan Tsvangirai step down.
"In fact, all our political parties have no answer to the problems we are currently facing as a nation.
"The MDC-T, MDC and Zanu PF failed to bring normalcy to the country during the GNU and at the moment their leaders are pushing their own agendas of enriching themselves yet the nation is drowning in a serious economic crisis. Companies have been turned into ruins; parents are failing to send children to school yet the leaders are busy enriching themselves with State funds," Mpofu charged.
He said the current crop of politicians were just opportunists.
Mpofu attacked President Robert Mugabe and Tsvangirai for overstaying at the helm of their parties saying they had set bad examples to upcoming leaders.
He said Mugabe, Tsvangirai and MDC leader Welshman Ncube were now a liability to the nation and their parties for allowing issues of corruption and imposition of candidates to go unchecked.
"People cannot rely on them for anything," he said.
He said it was sad that people were being forced to please Tsvangirai, Ncube and Mugabe by retaining them as party leaders while their performances have been nothing but dismal.
Mpofu said the nation had a general leadership vacuum and it was sad that heroes such as the outspoken Sydney Malunga, Margret Dongo and Eddison Zvobgo as well as former Bulawayo Roman Catholic Archbishop Pius Ncube, Moses Mvenge and Njini Ntuta, who openly condemned corruption were either deceased or sidelined.
"The country is failing to take care of its senior citizens. If you see a retired teacher, a war veteran in the rural areas and some other civil servants, you will be ashamed at what is happening," he said. Twitter feedback @silasnkala