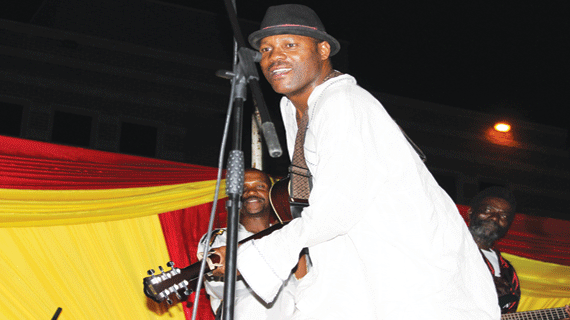 LUCKY artistes who have received their nomination letters for the 2013 edition of the National Arts Merit Award will this Saturday hog the limelight at the prestigious prize-giving banquet organised by the National Arts Council of Zimbabwe at Bulawayo's Rainbow Hotel. DIVINE DUBE Own Correspondent
While it is undoubtedly an honour for an artiste to be shortlisted for any single award, the nominees and their fans are probably waiting — fingers crossed — to witness their music legends walking away with coveted awards at the arts jamboree which promises to be a thriller.
Although the organisers will jealously guard the names of their perceived winners until the fateful night of February 15, most nominees are definitely praying for miracles to happen, but one thing is certain: the best artistes will emerge victorious.
While artistes from Bulawayo seem to feature prominently in theatre, literary arts and dance awards, there is one man who might be the toast of the night should he walk away with the coveted award at the Nama.
Interestingly this man is the only musician from Matabeleland who has been nominated for the music award hence all eyes are on him. This is none other than Afro-Jazz sensation Majahawodwa "Jeys Marabini" Ndlovu.
The Afro-Jazz genius, probably the most gifted to rise from Matabeleland will battle it out in the best male musician category with Jah Prayzah and Sulumani Chimbetu.
This is frankly speaking a tough tie, but should adjudicators use balanced criteria for nominating the winner, the Afro-Jazz muso is likely going to rule the roost.
There is no doubt that his music, unlike those of his counterparts stands the test of time and appeals to people of all colour, creed, tribe and age. No doubt his music has thrown him onto international scenes such as Austria where he has performed to a generic audience consecutively at the Roots Music from Southern Africa festival.
His latest album Isilo produced via Dumisani "Ramadu" Moyo's Austria-based 10th District stable speaks it all.
The album is a thriller and is currently used to teach African music in several music academies in Germany.
It is his mature, calm and rich rhythmic sounds that speak for Jeys as one of the best male musicians in Zimbabwe.
A fusion of pure a capella, guitars, drums and strings, his music is undoubtedly an embodiment of hard work, resilience and excellence. The Afro-jazz prodigy recently went classical, proving his versatility in music, yet another flair which makes him a shining beacon in the showbiz industry.
However, although the Afro-jazz muso stands a better chance of clinching the title of best male musician it would be frank to point out that his nemesis are a no duo to undermine.
Prayzah found a niche which charmed many music followers to believe he is the best while Sulu on the other hand also put a brilliant show to maintain his reputation as an accomplished musician.