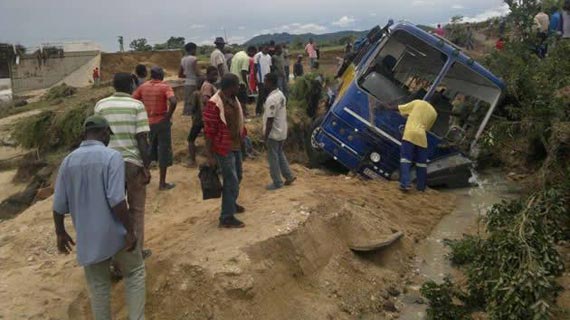 Two people died and two others are missing after a Zupco bus plunged into a river in the Tongogara area of Midlands on Friday morning.
Staff Reporter
Police spokesperson Chief Superintendent Paul Nyathi told ZBC the bus carrying 28 people plunged into Musabezi River near Mukandapi Business Centre.
He said the driver of the bus travelling from Beitbridge tried to cross a bridge that was submerged under water.
Nyathi said an elderly women and a child were missing. He said the driver and 24 other passengers were not hurt in the accident.
The heavy rains, that have been pounding most parts of the country for over two weeks, have left many roads impassable.
Travellers have also been stranded at low lying bridges that have been submerged by flood waters.