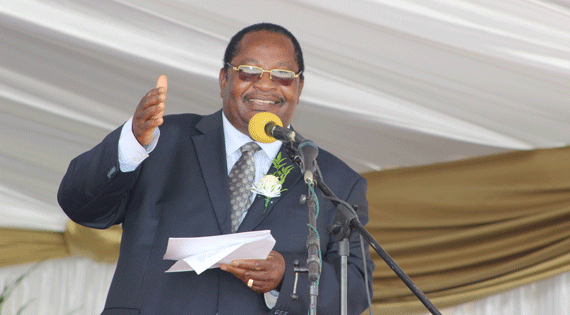 TRANSPORT and Infrastructure Development minister Obert Mpofu's wife Sikhanyisiwe and daughter Nomsa have been accused of swindling some small-scale miners in the Makwe area of Gwanda two years ago through a company in which they are the sole directors.
RICHARD MUPONDE SENIOR COURT REPORTER The alleged scam occurred when Mpofu was still the Mines minister.
According to a case before the Bulawayo High Court, the small=scale miner's Makwe Mines is suing Akjet Mining (Pvt) (Ltd) for $550 000, which they claim the Mpofus were supposed to pay for the purchase of their mine which they had agreed to sell for $700 000.
The court documents gleaned by Southern Eye showed that Akjet Mining only paid $150 000 deposit and allegedly reneged on paying the balance.
According to a CR14 form at the Deeds of Companies, Akjet Mining (Pvt) (Ltd) is owned by Sikhanyisiwe Mpofu and her daughter Nomsa, who are the sole directors.
The mother and daughter owned Akjet Mining is alleged to be "illegally" running Makwe Mines as it does not have mining certificates for the 36 claims it is operating as the deal to transfer the claims into the family company had not been completed.
Particulars of the claim against the Mpofus' company stated that on or around October 2 2012, Makwe Mines and Akjet Mining entered into an agreement under which Makwe Mines would sell its rights, title and interest — a total of 36 registered gold mining claims together with improvements.
"The salient terms and conditions of the agreement were as follows; the purchase price was a sum of $700 000, a deposit of $250 000 was payable upon signing of the agreement of which $150 000 was to be paid in cash or by bank transfer and the balance deposit of $100 000 was to be paid on or before the end of October 2012 or within 30 days of the date of signing of the agreement, whichever would be the later," reads the claim.
"The balance of the purchase price of $450 000 was payable in four consecutive monthly instalments of $100 000 with effect from June to September 2013 and one final instalment of $50 000 would be payable on or before the end of October 2013. The transfer of the claims was to be done upon payment of the full purchase price," the claim read.
However, the Mpofus breached the contract and were allegedly refusing to pay the balance of $550 000 leading to Makwe Mines going to court for recourse.
The matter is still to be heard as it was currently at the pretrial conference stage.
Makwe Mines is represented by Robert Ndlovu while Joel Pincus represents Akjet Mining in this case.