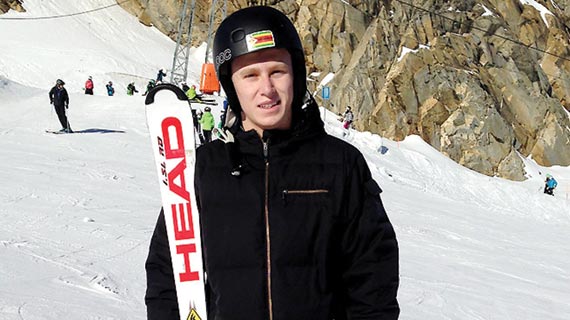 ZIMBABWE alpine skier Luke Steyn received a timely boost ahead of his debut at the Sochi Winter Olympic Games after reaching a sponsorship agreement with Finland-based clothing company, Makia Clothing.
DANIEL NHAKANISO SPORTS REPORTER
The sponsorship will see Makia providing outfits for the Zimbabwean team in Russia which includes the country's sole competitor Steyn and his support team comprising of the chef de mission Kathy Lobb, his coach Aaron Tipping and his physiotherapist Tii Maria Romar.
Admire Masenda, the Zimbabwe Olympic Committee (ZOC) president will also attend the games which run from February 7-23 in his capacity as the National Olympic Committee dignitary for a participating nation.
In a statement on their official website, Makia Clothing said their outfits will be worn by the Zimbabwean delegation during the opening ceremony and outside of racing events.
The 20-year-old skier Steyn, who will become the first ever Zimbabwean to compete in the Winter Olympic Games said he was looking forward to the partnership with Makia Clothing.
"I don't think you can find a better match. A small enthusiastic nation making its mark on the Winter Olympics, partnered with a young, creative company like Makia.
"I look forward to building on this exciting relationship in the future," said Steyn.
Joni Malmi, the founder of Makia Clothing said his company was proud to be associated with Steyn.
"We as a small company feel very proud to be able to support an athlete from the other side of the world and to be a part of the Olympic dream that unites us all," he said in a statement on the Makia Clothing's official website.
Steyn qualified to represent Zimbabwe in Alpine Skiing, where he will compete in two events, the Giant Salom and Slalom on February 19 and 22 respectively.
Steyn was born in Harare but his family moved to Switzerland when he was two. Moving to Europe at an early age, Luke started his skiing career in European skiing academies and eventually moved on to the University of Colorado in the US.
He is excited to be a part of his country's history in Sochi, although he has moved from Zimbabwe, he still feels a very strong connection to his native country.
Meanwhile, though the Sochi Winter Olympic Games technically begin today the opening ceremony will take place tomorrow.
According to the organisers participating nations will send a flag bearer along with other Olympic athletes into the stadium to represent their participation in the Olympics.