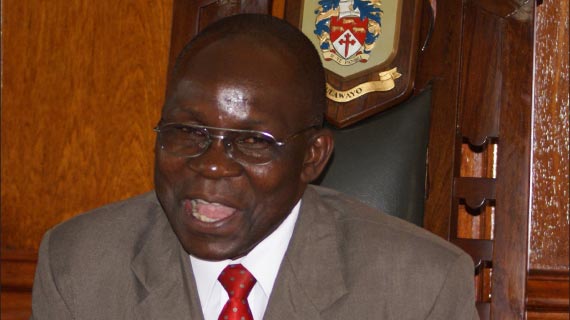 BULAWAYO city councillors are allegedly plotting to oust mayor Martin Moyo and his deputy Gift Banda through a vote of no confidence accusing the two of incompetence.
NQOBILE BHEBHE CHIEF REPORTER
The opposition MDC-T made a clean sweep of all the 29 wards in last year's elections and sources said although Moyo and Banda were voted in by their peers, they were not the party's first choice.
National University of Science and Technology (Nust) lecturer Mandla Nyathi and city lawyer Kucaca Phulu were the MDC-T's choices for mayor while Ward 20 councillor in Nkulumane Ernst Rafemoyo had been earmarked for the deputy mayoral post.
Nyathi and Phulu were excluded by the new Constitution which requires that mayors be elected councillors and some bargaining led to Moyo being the compromise candidate deputised by Rafemoyo.
Rafemoyo was aimed at balancing the tribal card after some MDC-T Bulawayo members had vowed that a non-Ndebele could not be the city's mayor.
It was also felt that Rafemoyo was serving a second term and was therefore experienced in council business.
However, a council chamber coup on election day saw Banda being catapulted into the deputy mayor's post.
An official familiar with the war brewing at City Hall told Southern Eye yesterday that about 18 out of the 29 councillors had been mobilised to pass a vote of no confidence against Moyo and Banda.
"While people may think that all is well in council by the mere fact that they all belong to MDC-T, that is not the case," said the official.
"Secret meetings are being held to get rid of the mayor and his deputy.
"In fact, the meetings began soon after the September chamber elections. They (Moyo and Banda) are viewed as being imposed by the party provincial structure.
"Councillors are of the view that Moyo and Banda lack leadership skills befitting the offices they hold and should be replaced.
"The 18 councillors mobilised so far for the coup prefer Collect Ndlovu or Rafemoyo to take charge," the insider said.
Ironically, Ndlovu and Rafemoyo lost to Banda in the elections in September.
During the elections, Banda, a former football administrator got 14 votes, Rafamoyo eight and Ndlovu seven. Moyo stood unopposed for mayor.
Bulawayo MDC-T provincial chairperson Gorden Moyo yesterday said although he had no full details about the "coup plot" he had heard of it and dismissed it as coming from mischievous elements being used by Zanu PF.
"It has not been officially brought to our attention that our councillors are having problems with the mayor and his deputy," he said.
"As far as we are concerned, the mayor has done a sterling job which is very much appreciated together with his deputy.
"Such plots to destabilise the council are coming from what I can say — for the lack of a better word — mischievous elements.
"Those people who are mobilising are being used by Zanu PF and we are used to such manoeuvres.
"If those elements are not happy with the mayor and his deputy, as a party we have a secretary for local government to whom such issues can be brought and then to the provincial structures," Moyo said.
Some party officials also warned that the ploy could backfire as the ouster of Moyo and Banda could present Local Government minister Ignatius Chombo with a "perfect opportunity to set up a commission to run the affairs of the city".
Chombo has over the years clashed with the local authority on a number of issues and a commission for Bulawayo, a traditional MDC-T stronghold, would be a coup for Zanu PF.
"If the councillors are not careful, they could play into Chombo's hands and end up without jobs.
"Chombo has appointed a commission when we had a competent mayor (Elias Mudzuri) in Harare and any sign of turmoil would be used as an excuse to dissolve council," said a senior provincial party member.
In 2012, Chombo set up a team to probe corruption allegations against council as he sought to tighten his grip on the MDC-T led council.
The probe team drew sharp condemnation from stakeholders, who expressed their reservations over the impartiality of the investigators handpicked at the sole discretion of Chombo.
Chombo also threatened to fire Bulawayo councillors after the municipality resisted his efforts to appoint eight special councillors.