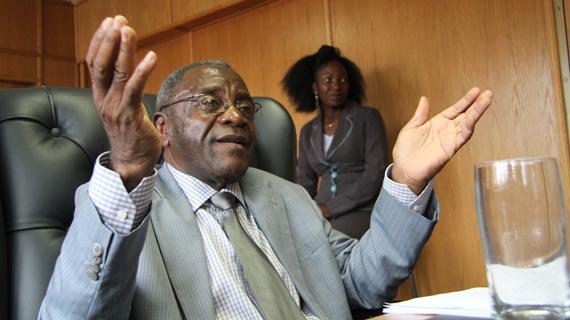 MDC Matabeleland South chairperson Pilate Ndebele yesterday dismissed the hullabaloo surrounding the obscene salaries parastatal executives are paying themselves saying it is a smokescreen that would die a natural death. SILAS NKALA STAFF REPORTER
Ndebele's comments come in the wake of revelations that axed Premier Service Medical Aid Society (PSMAS) chief executive officer (CEO) Cuthbert Dube earned about $230 000 a month.
Dube had also single-handedly approved a $40 000-a-month package for suspended Zimbabwe Broadcasting Corporation (ZBC) CEO Happyson Muchechetere as the public broadcaster's chairperson.
Media, Information and Broadcasting Services minister Jonathan Moyo has ordered a forensic audit at ZBC and promised that those implicated would be dealt with in accordance with the law.
Parliament was also assured by Health and Child Care minister David Parirenyatwa that a probe into the operations of PSMAS was underway.
However, Ndebele said the recent revelations could be a calculated move by the ruling Zanu PF to endear itself to the general populace by pretending to be fighting corruption. He said similar allegations had surfaced before, but nothing was done about them.
Ndebele said investigations taking place would yield no results and there were likely to be no repercussions for those involved.
"All the claims that these people are being investigated by the government are a lie," he said.
"This is not the first time we've had people linked to Zanu PF facing such allegations.
"We had the late Kumbirai Kangai, who allegedly swindled the Grain Marketing Board (GMB) of more than Z$200 million in a maize deal; there was the late Enos Chikowore who also allegedly swindled the National Oil Company of Zimbabwe (Noczim) and Christopher Kuruneri who was also accused of abusing State funds.
"But what happened to their cases? Nothing was done except for some noise just to fool us," he said.
Ndebele said assurances of investigations into the scandals were meant to divert people's attention from the real issues besetting the country and nothing would materialise from the so-called probe.
"Do you think these people didn't know all along that such things were happening in parastatals?
"A parastatal is a government entity and there is no way government would not know how much it was paying parastatal executives," he added.
"These people must have been giving some money to Zanu PF because they would have been in jail right now had they not been linked to the party.
"We were forced to pay radio licences by ZBC, but at the end of the day only Zanu PF had more airplay during the campaign period. Muchechetere was working for Zanu PF and they knew what was happening.
"Do you think they can lock him up even if it's true that he misused ZBC funds?" he asked.