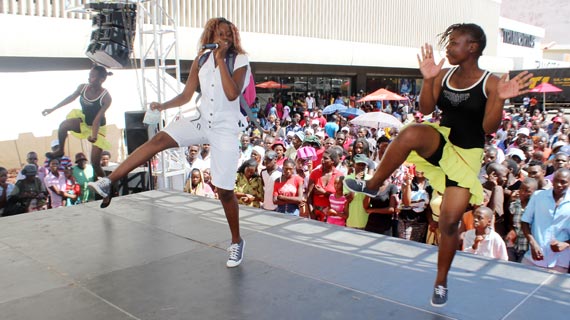 WAVE-MAKING kwaito singer-cum-dancer Kadder, born Proficience Kadder is fast becoming a force to reckon with in the local showbiz industry.
DIVINE DUBE Own Correspondent
Although the kwaito prodigy spent the 2013 festive season in doldrums — with no shows in sight — she has hogged the limelight with her new kwaito hits Dlala Bak'bone and Phezu' Kwamanzi currently topping music charts in local radio stations.
The outspoken female singer who dresses pants and All-star sneakers — a trademark outfit synonymous with kwaito music — seems to have a supernatural force which makes her tick against a background where most artistes struggle to make a leap.
Furthermore, Kadder sees a ray of light in her music pursuits despite the fact that most music critics argue that kwaito music could soon be extinct as it is being rapidly displaced by house music.
In South Africa the home of kwaito, former kwaito singers such as trailblazing Zimbabwe-born Oscar Mdlongwa aka Oskido have crossed the floor to house music for survival, while celebrated singers such as Arthur Mafokate have fallen by the waysides.
But Kadder is raring to go: "Kwaito is in my blood," she told Southern Eye Lifestyle in an interview.
"Kwaito will never die and I vow to keep it alive as long as I live. Kwaito is currently facing stiff competition from house music, but I am raring to go because I know that my style is unique," said the buoyant Kadder.
"I have had a lot of challenges before, but I have made a breakthrough because of my resilience. Some fans and promoters have often been sceptical before I go on stage, but most of them have been impressed by my performances. This gives me the zeal to pursue my dream," she said.
Kadder told Southern Lifestyle that she took a forced vacation during the 2013 festive season because she could not get paid shows.
"The shows that I got were for free so I vowed not to do anything for free hence I had to stay home," she said.
The self-proclaimed kwaito queen, who says she loves being on stage than in the studio, is set to release her debut album Plan It Kadder in April this year and has already embarked on a drive to promote her music works through a nationwide tour.