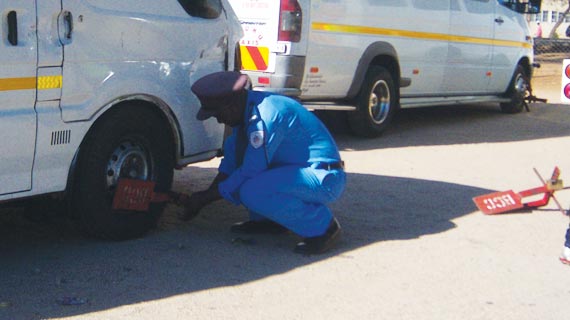 THE joint blitz by the Bulawayo City Council and the Zimbabwe Republic Police against errant motorists was long overdue.
Police and municipal police this week have been mounting roadblocks targeting motorists with outstanding tickets for various traffic offences.
They are using a newly-computerised system that can scan cars to fish out motorists with outstanding fines and have been evading justice.
The recognition system can scan a vehicle's number plate and pick up all outstanding fines.
Motorists with outstanding fines are having their vehicles clamped and towed away if they fail to pay on the spot.
Admittedly, the operation has been an inconvenience to law abiding commuters who have to endure suicidal driving from public transport drivers trying to evade arrest.
Commuter omnibus drivers with outstanding fines and those with unfit vehicles have responded by parking their vehicles, resulting in public transport being scarce.
However, this is necessary pain residents have to endure if the traffic jungle in the city has to be tamed.
Lawlessness has been creeping onto the city's roads and this has been blamed on increasing corruption in the police force which has allowed drivers to get away with everything as long as they are prepared to part with some money.
The bribes go to individuals' pockets and only serve to perpetuate lawlessness.
We agree with Zimbabwe Passengers' Association secretary-general Paul Makiwa who, in support of the blitz, said a situation where transport operators appear to have a leeway for misconduct should not be tolerated.
Zimbabwe has one of the highest rates of road accidents in the world yet it has fewer cars compared to the developed world.
The figures are a clear indication that most cars are unroadworthy, people are driving without licences and that there is general lawlessness on the roads.
Such operations should be a permanent feature until sanity is restored on our roads.