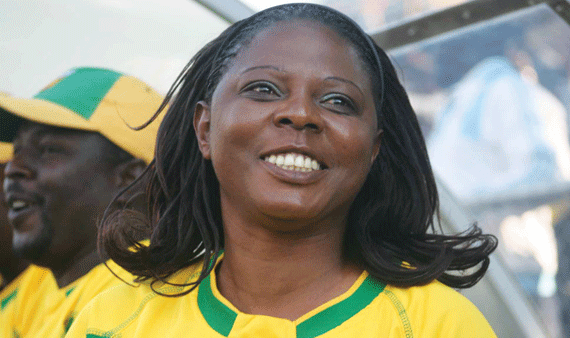 NATIONAL senior women's football team coach Rosemary Mugadza blamed bad officiating for the 3-2 loss to Egypt in a friendly match played in Cairo on Wednesday, but the gaffer also criticised her players for losing concentration at critical moments.
HENRY MHARA IN CAIRO, EGYPT
Zimbabwe raced to a 2-0 lead in the opening 10 minutes, but two mistakes by goalkeeper Chido Dzingirai in the last five minutes of the first half saw the Egyptians levelling up things.
The Mighty Warriors had star midfielder Merjury Nyaumwe — who was a real threat to the hosts — given a red card by an inconsistent match day referee.
The local referee, who appeared very determined to see Egypt winning the match at all costs, awarded the hosts a penalty late in the match which produced the winner.
So controversial were most of his decisions, especially in the second half, that the Zimbabwe team had threatened not to fulfil the second friendly match against the same opponents set for tomorrow, before rescinding the decision after a meeting with members of the Egyptian Football Association.
The Mighty Warriors are using the friendly matches to prepare for the African Women Championships (AWC) first round qualifier against Botswana on the weekend of February 14-16, the same weekend Egypt will be playing Tunisia in the same qualifiers.
Mugadza said the referee who handled their Wednesday match influenced the result.
"I think it was predetermined that Egypt had to win the match. The referee did well in the first half and although most of the 50-50 challenges went against my players, I think he did well in that half. He was a different person in the second half. He tried all he could to frustrate my players. I don't think Merjury deserved a red card, neither did they deserve the penalty," said Mugadza.
"I give credit to the players who remained cool under those circumstances. That is what I expect from them because what they experienced is the same treatment they will get during the qualifiers. The Egyptians are celebrating that they beat us, but I think they are fooling themselves and spoiling their players. They should not expect to get such spar treatment out there.
"We are also to blame because we allowed the referee to do what he did. Had we scored more goals in the first half when the environment was still conducive, I don't think that drama would have taken place, " Mugadza added.
The former Mighty Warriors defender thinks the team's preparations for the qualifiers are well on course and is confident they will beat Botswana.
If the Mighty Warriors sail past Botswana, they will meet the winner between Tanzania and Zambia in the second and final qualifying round for a place at the finals in Namibia this October.
The AWC also serves as qualifiers for the 2015 Women World Cup, with the top three teams in Namibia automatically booking their tickets to the finals set for Canada.