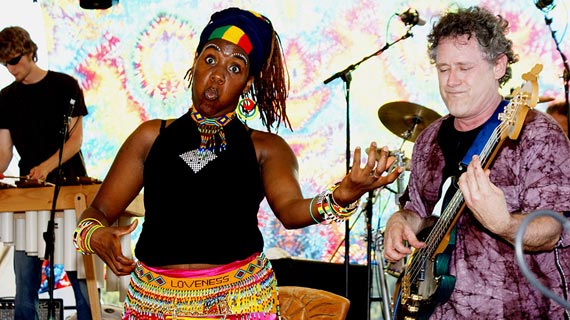 UNITED STATES-BASED songstress Loveness Wesa will kick-start the year with a bang as she is billed to share the stage with legendary musician Oliver Mtukudzi in the US.
SINDISO DUBE OWN CORRESPONDNET
The show has been scheduled for February 1 at the Star Theatre in Portland, Oregon.
Speaking to Southern Eye Lifestyle in an interview from her US base, Wesa said she was more than ready to share the stage with Mtukudzi.
The two last shared the stage in August last year in the US.
"I promise fans a double portion of some healing through our music because it sure does the magic. Stars were created to give some light to many souls," said the excited songbird.
"Big brains think alike and if I wasn't a star in the same way as Tuku, l doubt I would be performing with him again this time. This is just the beginning. More collaborations could be born," she said.
The musician revealed that she was learning a lot from Mtukudzi.
"From Tuku l'm learning that there is still hope for generational transfer, meaning we still have people like him that are willing to share their knowledge to the younger generation and be able to work with any artiste," she said.
Wesa, who started her career as a dancer, choreographer, actress, singer and producer at Amakhosi Theatre in Bulawayo, moved to the US in December 2002.
She recorded and released three albums of her original compositions.
Tovera (2001) is a collection of music inspired by traditional songs and Brooms (2002) includes her renditions of songs from her dance play. In 2005, Wesa returned home to record and produce her latest album, Mukadzi WaMambo.
These albums include songs in Shona, Ndebele, Venda, Sotho and English.
Her sound merges ancient traditions with a modern twist and is adapted to both traditional and contemporary instruments. Wesa is backed by The Bantus.