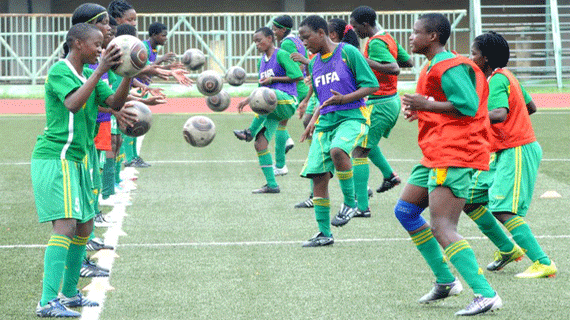 THE SENIOR national women's football team's preparedness for the African Women's Championships qualifier against Botswana next month will be put to test when they engage Egypt in an international friendly at the October 6 Stadium this afternoon.
HENRY MHARA IN CAIRO, EGYPT
The two teams will meet again on Saturday as the Mighty Warriors conclude their preparations ahead of their trip to Gaborone for the first round first leg qualifier on the weekend of February 14-16.
Egypt are also preparing for their qualifier where they will play neighbours Tunisia on the same weekend.
If the Mighty Warriors go past the first round as hugely anticipated, they will meet the winner between Zambia and Tanzania for a place at the finals in Namibia this October.
The top three in Namibia will automatically qualify for the 2015 Canada Women's World Cup.
In preparation for the match, the team has played friendly matches against Zambia, South Africa and Lesotho (thrice). Team captain Felistas Muzongondi thought the team was ready and should be able to qualify for both the African Championships and the World Cup.
"We can't complain about the preparations. To be honest I think they are enough. And looking at the teams we will face I think we have a very good chance. We have played them before and got very good results," she said.
The last time Zimbabwe played Botswana, the Mighty Warriors won 5-0, the same number of goals that were scored against Tanzania in Dar es Salam while Zambia were scored four in Lusaka.
Given those convincing results, assistant coach Yohanes Chikaola is looking beyond the qualifiers.
While the Mighty Warriors might not find any problems in qualifying, they have had problems with West Africans.
Thus qualifying for the World Cup could be tricky. However, Chikaola remained hopeful.
"Our play is not much different with that of West Africans, but it's to do with our players' mentality.
"We just have to work on that because I believe we are capable of beating any team in Africa," Chikaola said. "What is important for us is to qualify and if we can reach the quarter-final then I think we will go all the way.
"What we need now is the association, the government, the corporate world and everyone's support."
Chikaola said they were going for an outright win against Egypt. The last time the two teams met was in 2011 in Cairo with the match ending in a two-all draw. "Egypt is a tough team. They are technically good and very quick, but we need to continue with our winning mentality," Chikaola said.
The Zimbabwe team, which left Harare on Sunday afternoon, arrived on Monday morning. They had one training session on Monday afternoon and two full sessions yesterday.