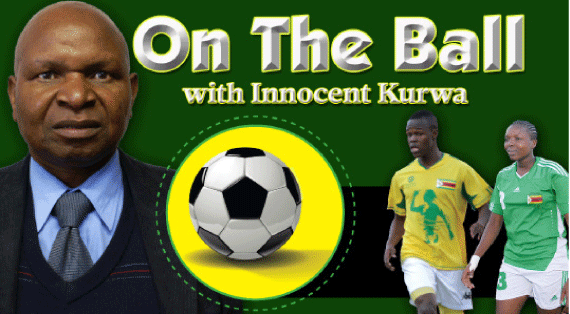 SOME PRETTY big news, especially for football in Zimbabwe, passed virtually unnoticed unless you are one of the very few lucky people that have the money and time to read all the country's daily newspapers, on the sidelines of the ongoing African Nations Championship (Chan) finals in South Africa.
In an interview while in Cape Town, Patience Khumalo paints a sorry picture of football in Zimbabwe. Who is Patience Khumalo, we all may ask? She is the chief executive officer (CEO) of the country's biggest football sponsors, Mbada Diamonds Holdings.
In her no-holds interview — my interpretation of course Khumalo says the national sport was heading for tougher times unless challenges that are an albatross on the neck of football are addressed. Khumalo says these challenges were mainly of an adminstrative nature.
Those with a chauvanistic attitude will dismiss Khumalo's intimations without even looking at her argument point by point and weighing the merits or demerits of each point. The truth, however, is that Khumalo, as the CEO of an organisation that is bringing some joy to an otherwise staid football environment, in terms of sponsorship, should be taken seriously by all and sundry, our football administrators included. For starters, Khumalo must be applauded for her frankness, even if one disagrees with her. More importantly, however, is that what she points out is something that needs urgent attention and now before the forthcoming season so that that term can be better, albeit slightly, than the last.
Before one delves into the points Khumalo raises, it is necessary to appreciate that she is actually expressing views that are held by the business community from which football and all other sporting disciplines derive their sponsorship. She was part of the business community as head of Mbada Holdings and, diamonds being one of the star attractions at present in terms of the economy, she certainly commands authority and respect in the business community.
What this view speaks to is that what Khumalo said about football as regards sponsorship, therefore, is the general view that runs across the business community in Zimbabwe. It is with this in mind that it is pertinent to take Khumalo's sentiments seriously and seek to address the issues she raises.
In summary, Khumalo blames administrative weaknesses for the greater share of problems that local football faces: She says the state of football in Zimbabwe is perilous; that the much talked about football trust is hopelessly useless and that Zifa CEO Jonathan Mashingaidze could perform much better, especially as relates to the football trust and the success of its work.
Quotations on what Khumalo said:
State of the game in Zimbabwe: "It is a disaster. If I was CEO of any football entity I would resign." Zimbabwe football trust: "As a football trust, if we are to be asked what have we done, what have we achieved. I can comfortably say nothing. Why? Because we have done exactly that. Why? Because Zifa are still able to run parallel and generate expenses because the natioal team has plans that, as a football trust, (we) are not aware of."
Jonathan Mashingaidze and the football trust: "For starters, when you have the Zifa CEO coming into the football trust meeting you would expect him to be the one who will drive it by telling us Zifa's plans . . . But if he is not present or he is not talking — literally not talking it becomes a bg problem because the CEO is the one who should drive, but you cannot get that out."
On who is to blame for this poor state of football in Zimbabwe: " . . . others have already spoken about these things in the past, tried to implement things and failed. So it's nothing new. I blame everyone who has been in football for the mess we are in right now and I blame the media guys."
Judge for yourself!
The Zifa hierarchy, particularly president Cuthbert Dube and Mashingaidze, surely cannot just remain quiet in the wake of this interview and pretend it is business as usual when the CEO of the biggest sponsors of football in the country speaks out so damningly.
The country should be told Khumalo is saying a lot of unfounded hot air, if that is the case or what steps the football authorities are taking to address the issues that she raises. It is virtually a week since the interview with Khumalo was published, but we have heard nothing from the powers that be — only damning silence as if nothing has happened.
Mbada are the country's football saviours, so to speak, and surely what they say means a lot unless we are saying we do not care a hoot if they cancelled their sponsorship!
Zifa elections are just round the corner and what Khumalo says is something aspiring candidates as well as the electors need to address. Aspiring candidates would be expected, in their promises and manifestos, to clearly outline how they hope to improve football at whatever level — area, zonal, regional or national — they seek to hold office.
Those that cast votes in the football elections have a massive task on their shoulders — a national responsibility in fact — to choose and put in office cadrés who will clean up our football and make it move a step forward and restore the sport as the national game whose matches all and sundry look forward to attend at all times.
 By the time you are reading this we will be aware of Zimbabwe's fortunes in the Chan finals after the Warriors' last group match in Cape Town last night. One of the things that have stood out for Zimbabwe in the group matches is that national coach Ian Gorowa seriously needs to look at what he says off the pitch and what he does in selecting his starting XI.
Some of the statements Gorowa has been uttering, especially on players and their destinations in terms of which clubs they end up at, have made him look more like a player agent rather than the national coach.