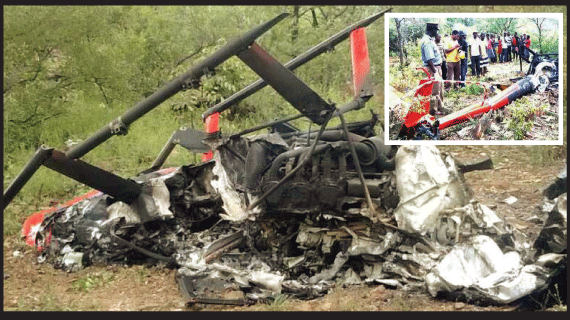 SOUTH AFRICA-BASED Beitbridge tycoon Christian Malila Ndou died yesterday morning when his Robson R44 helicopter crashed at the mountainous Maphane area, 6km outside Gwanda town.
Albert Ncube Own Correspondent
Relatives identified the deceased and wept uncontrollably when they arrived at the scene of the horrific crash that happened early in the morning.
One man believed to be his son went berserk and ran away from the crash site before he was calmed down by police.
Malila is suspected to have been thrown out of the helicopter when it developed a fault before it crashed and caught fire.
The helicopter's propellers cut him into pieces and his body parts were found almost 30m away from where the helicopter crashed.
His leg was severed and a hand was cut into pieces.
Some remains were gathered from up to 50m away from the crash site. Malila, who ran a thriving security company in South Africa, was flying alone.
When Southern Eye arrived at the scene, police were seen gathering his remains from the bushy area on a hilltop.
Eyewitnesses who saw the helicopter fly above Gwanda town moments before it crashed said the pilot had circled above the town as if he was looking for landing place.
"The helicopter circled for some time and I thought it was going to land somewhere in town before it headed southwards. It could have developed a mechanical fault," said Thembinkosi Moyo of Jahunda suburb.
Unconfirmed reports indicated that Ndou wanted to land at Gwanda High School grounds to see a relative.
"The helicopter was flying so low and it made some terrible noise, I think something was faulty with it," added Moyo.
Some suggested the helicopter had tried to land at Gwanda Police Camp. Maphane residents said they heard a loud bang before seeing smoke rising.
"The sight was traumatising when we got there. I have never experienced this before, pieces of human flesh were strewn all over the place and it will take time to forget this," said Nomsa Sibanda.
Henry Raymond Hollins of Gwanda, who also owns helicopters, said it was strange that the helicopter had crashed.
"A Robson R44 rarely crashes and I really wonder what could have happened," he said.
Civil Aviation Authority of Zimbabwe officials were expected yesterday to investigate the crash. Police spokesperson Superintendent Paul Nyathi referred questions about the accident to Assistant Commissioner Charity Charamba whose mobile phone went unanswered.