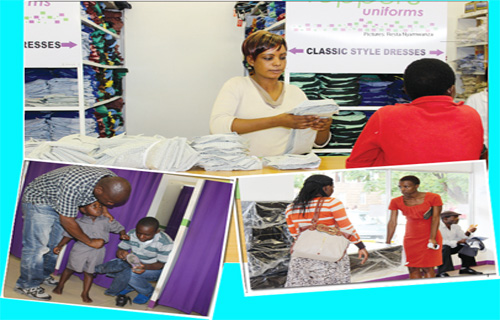 SOME parents in Bulawayo have expressed concern at the sudden increase in the price of uniforms and stationery a few days before schools open for the first term of 2014 next Tuesday.
LINDA CHINOBVA OWN CORRESPONDENT
The parents, who are already battling with other household expenses, said shop owners should consider that schools open a few days after most families spent a lot of money to celebrate Christmas and New Year's Day.
"Shop owners must consider that January is a difficult month in which most people are saddled with a lot of expenses and they should not further milk us by raising their prices," Buhle Mthethwa who was buying uniforms for her children in the city centre, said.
"If we compare the prices of uniforms before Christmas and after Christmas, there is a huge gap. Before Christmas, one could purchase a boys' shirt for $9, but the same shirts are now going for $13 and the percentage increase is just unreasonable," Mthethwa said.
Prince Sibanda, who was shopping for uniforms and stationery, urged shops to consider reducing their prices because this was the time most uniforms were bought.
Sibanda said shop owners were just taking advantage of the high demand for uniforms to make a quick profit. Ray Chiota said the increase in prices was unreasonable considering that most people were unemployed while those who were employed earned peanuts.
"It is not a secret that most people in the city are unemployed, so for companies and schools to increase their charges is unfair because we do not have the money, but they are taking advantage of the fact that our children have to go to school," he said.
Some parents said they had now resorted to purchasing uniforms from individual tailors who sew and sell low quality school uniforms charged at affordable prices.
"Many of us have resorted to buying uniforms from individual traders because they charge only $6 for a blouse and $8 for a skirt whereas shops charge $15 and $18 respectively," another parent, Marble Nyoni, said.
However, the director of Toppers Uniform (Pvt) Ltd, Junior Patel, said his company had not increased prices for the past year.
"The prices of uniforms have not been increased because we managed to produce more garments than in the past years," he said.
Patel said a uniform set for a child starting Grade 1 at Kumalo Primary School, which he used as an example for all primary schools, would cost a total of $58.
Shoes cost $21, a satchel $11, uniform $14, hat $6, socks $4 and tie $2.
He said a uniform for a Form 1 child enrolling at a secondary school like Hamilton High School costs $66. The shirt and short cost $18, socks $4, shoes $21, hat $6, satchel $15 and tie $2.
Parents appealed to the government to ensure that schools do not increase fees simply because it is a new year.
"It has become a habit for most city schools to just increase fees without any justification. Last term I paid $45 for my child's fees, but this term I am supposed to pay $65.
"There is nothing extra that I am paying for except that the school decided to increase the fees by $20," Sibonginkosi Ncube said.