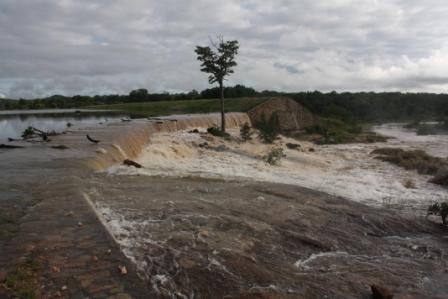 ONE homestead was swept away while some villagers were marooned following heavy rains which pounded Hwange district on Friday. OWN CORRESPONDENT
The Hwange Colliery Company's fire brigade and police had to rescue Joseph Ncube's family of Bhangali Village under Chief Nekatambe whose property was swept away into the nearby Lukosi River.
Traffic along the Bulawayo-Victoria Falls Highway was also brought to a halt as the fire brigade and some locals battled to remove some trees that fell into the busy road due to the incessant rains.
The acting Hwange district administrator Tapera Mugoriya, who is also the chairperson of the local civil protection unit said the affected family were moved to safety and were now staying with their relatives.
He said a long-term solution would be to relocate the affected villagers as they were living in low-lying areas which are also downstream the Kalope Dam.
"We will soon engage other stakeholders such the Ministry of Lands and Rural Resettlement, Hwange Rural District Council, Chief Nekatambe and other organisations to look at ways on how we can move the families living in the downstream of the (Kalope) dam," Mugoriya said.
He added that they while the situation was under control, the district's civil protection unit was on high alert during this time of the year following warnings by the Meteorological Services Department of severe floods.
Meanwhile, inmates living at Badala Old People's Home in the colliery's Sinderella high-density suburb were on Friday also moved to safety following the flooding of their places of residence due to the incessant rains.
The inmates are being housed at a nearby Roman Catholic Church .