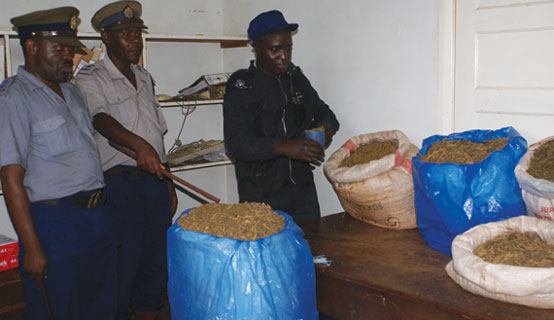 BULAWAYO police believe they have broken up a major drug syndicate after seizing 69,6kg of mbanje with a street value of about $70 000 from a 70-year-old Gwabalanda woman yesterday.
MTHANDAZO NYONI OWN CORRESPONDENT
The mbanje was hidden in one of the toilets and the police had to use sniffer dogs to discover the drug.
Bulawayo provincial police spokesperson Inspector Mandlenkosi Moyo said detectives swooped on the house after receiving a tip-off from members of the public that a drug syndicate was operating in Gwabalanda and Luveve.
Moyo said police searched the house owned by Josephine Sithole (70) in Gwabalanda and recovered the illicit drug with the help of sniffer dogs. Sithole was immediately arrested and taken into custody while police investigations continued.
"Acting on the information that had been provided by members of the public, police detectives searched the house in Gwabalanda and recovered 69,6kg of prepared mbanje with a street value of $69 600," Moyo said.
"We have since arrested one suspect and investigations are still underway. As police, we will not rest until drug abuse is eradicated. We commend members of the public for providing us with information and we encourage others to take a leaf from this example," Moyo said.
This is the biggest mbanje haul by Bulawayo police inside two months after two Chipinge brothers were arrested by Hillside police after they were found with four suitcases stashed with the illicit drug worth $58 000 in November.
The brothers had disembarked from a Zupco bus at a bus stop near the Chipangali Wildlife Orphanage with their luggage which triggered suspicion from a detective who was on board the same bus coming from Birchenough Bridge.
They loaded their suitcases into a waiting car, but were apprehended in Bulawayo after the detective phoned police who set up a roadblock.
In another case, a homeless Bulawayo man was arrested on Christmas eve for cultivating and processing mbanje in Westgate.
A total of 65 plants, ranging from 20 centimetres and 150 centimetres in height were recovered in the swoop. Police also impounded processed mbanje weighing about 1,7kg with an estimated street value of $1 700.
Moyo said police believed they had cracked a major syndicate of mbanje traffickers operating in the Gwabalanda and Luveve areas with the latest haul.
He also said police were concerned about the negative impact of illicit drugs in communities and their consequent ill health effects.