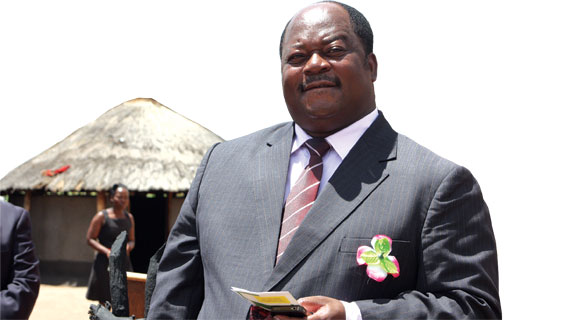 Sport, Arts and Culture minister Andrew Langa will meet the Warriors today ahead of their trip to South Africa for the African Nations Championships (Chan) finals. WELLINGTON TONI SPORTS EDITOR
The Warriors will continue their preparations today with the naming of the final 23 by coach Ian Gorowa expected tomorrow, a day before the Confederation of African Football (Caf) deadline.
Langa said yesterday: "It will be a courtesy call on the team at 12pm to assure them of government support ahead of their trip. I will have lunch with them."
The Warriors will play Libya at the National Sports Stadium on January 4 and wind up their preparations against Gabon on January 7 in Johannesburg, en route to their base in Cape Town.
Zifa has submitted a $354 000 budget for the finals and Langa said he hoped Treasury would be able to fund this important national assignment. The national team has often struggled for government support and Langa's visit today should be followed by action and not just assurances.
Three weeks ago, the Warriors were denied supper at their lodgings and Gorowa had to use his own money to buy food for the players — a situation which appeared to embarrass the ministry.
Zifa also received a timely boost when it got technical assistance from kit manufacturer Umbro, but Zifa president Cuthbert Dube said more was needed to be done by the government to support the national cause.
The Warriors were in Ivory Coast in 2009 and Sudan in 2011, but on both occasions failed to reach the knockout stages under Sunday Chidzambwa and Madinda Ndlovu respectively.
Now under Gorowa and having knocked Zambia out in the final qualifier, hopes are high the Warriors would be able to negotiate their way past Group B opponents Morocco, Uganda and Burkina Faso. Already, Gorowa has banished three players from the team —Bruce Kangwa, Silas Songani and Misheck Mburayi, leaving him with 27 players in camp. Another four will be dropped for the finals.
Meanwhile, the Uganda Cranes have shelved plans for a training camp in Johannesburg due to lack of funds and will now fly directly to Cape Town.
Cranes coach Milutin "Micho" Sredojevic believes Morocco will be their most difficult hurdle in Group B at the 2014 Chan finals.
Micho said although the other teams in their group like Burkina Faso and Zimbabwe were also strong enough, he thought Morocco would be their toughest encounter especially after Raja Casablanca finished second as hosts at the just-ended 2013 Fifa World Club Championship.
"After their exposure in the just-ended 2013 Fifa World Club Championship where about seven of their players were well exposed against good teams, they will be a strong side," Micho said.
The Cranes will be making their second appearance in the Chan competition after a poor showing in the 2011 event in Khartoum, Sudan, where they made a preliminary round exit.
"We are working so hard so that we make it out of that group to be based in Cape Town," Micho told MTN Football.