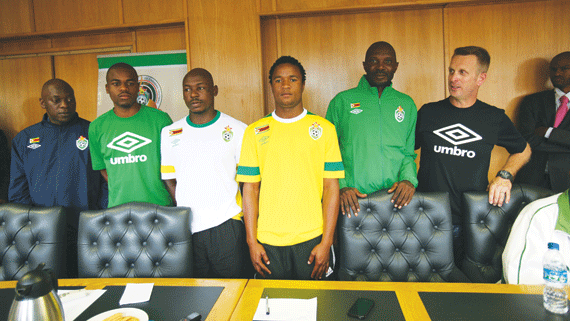 THE WARRIORS have struck a short-term technical sponsorship deal with football apparel manufacturer Umbro.
MICHAEL MADYIRA SPORTS REPORTER
The deal brokered by coach Ian Gorowa will see the Warriors using an Umbro kit at the African Nations Championships (Chan) in South Africa next month.
The sponsorship package includes kits and training equipment.
According to Umbro South Africa sales director Donovan Bell, the football equipment suppliers will decide to extend their deal to other teams after the Chan tournament.
"This sponsorship is just for Chan for the meanwhile and we will take it further from there. Maybe we can incorporate the women and the junior teams," Bell said.
"We also understand that the target market cannot afford an expensive product. We need to develop something that sells well in Zimbabwe and in South Africa. The Warriors have a big following down in South Africa among the Zimbabwe internationals in and around the big cities."
Bell said Umbro had been monitoring the Warriors' past few games.
"At Umbro we are for the upliftment of the player — the way he feels and looks on the field of play. I have watched the last few Warriors matches and it is impressive to see the team progressing from game to game," he said.
Since Italian sports apparel manufacturer Legea cut ties with the Warriors, Zifa has been struggling to secure a technical sponsor.
"We witness the provision of technical support by Umbro who have seen it fit to dress the Warriors ahead of and during the 2014 Chan tournament. The association would like to place on record our deepest appreciation and gratitude to Umbro for the interest they have shown in the Warriors brand," Zifa president Cuthbert Dube said.
The Warriors started camp on Tuesday and are expected to conduct their first training session in the capital this morning.