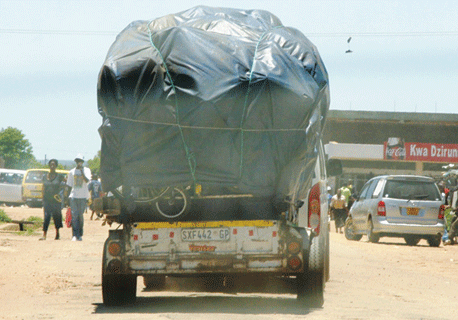 AFTER toiling hard in neighbouring South Africa, evading police harassment and sometimes xenophobic attacks for approximately 12 months, Zimbabweans based in South Africa — injiva as they are popularly known — are set to trickle in to join their families back home to celebrate the festive season.
DIVINE DUBE OWN CORRESPONDENT
In Bulawayo, Matabeleland North and South where most injiva hail from, a Christmas without them does not warrant celebration as they are known for their free spending and showy tendencies, especially with trendy clothing and GP-plated vehicles that they use to entice vulnerable girls who fall prey to them expecting lucrative benefits such as cash.
One of their common antics is playing loud music and driving at high speed which has in the past caused sour relations with traffic police who launch a series of operations against on errant motorists during the festive season.
At drinking outlets, they are known for their penchant for imported beer such as Heineken which they sip like water.
Such care-free behaviour has been attributed to a "closed life" which injiva are subjected to during their stay in foreign lands, hence the rowdiness and infringing on other people's rights.
Because of their rough lifestyle which has often seen them engaging in fights with revellers at drinking spots, police details have in the past beefed up security ahead of the festive season to deal with rowdy characters who bring disharmony in communities.
When the country's economy completely went on its knees in 2008, injiva and other people from the Diaspora became heroes of the day.
For instance, an injiva would be able to spoil family and friends for the entire festive season with just R1 000, but when the country adopted a multi-currency system in 2009, the tables turned demoting injiva and their Diaspora counterparts to ordinary members of the society.
While injiva were able to send goods home through transporters known as omalayitsha, they now find it rather better and less expensive to send money to relatives in Zimbabwe so that they limit exorbitant transport fees.
"It is better to send cash than groceries because grocery prices in South Africa and Zimbabwe are almost similar," Mthandazo Ncube, a Zimbabwean working in neighbouring South Africa said.
"After all, omalayitsha charge exorbitant prices to transport goods, especially during the festive season, so why should I lose money when I can buy groceries at home?"
Another injiva from Plumtree Lebani Dube concurred.
"Why should I lose money sending groceries home if I can just send money to my wife so that she buys groceries?"
During hyper-inflationary times, an ordinary injiva could exchange a R100 into billions f Zimbabwe bearer's cheque notes.
Those who take alcoholic beverages would drink throughout the night and still remain with surplus, but now things have dramatically changed as beer in Zimbabwe has become more expensive than in South Africa.
For instance, in Zimbabwe, a can of beer costs R10 or a $1 while it goes for as little as 40 cents in South Africa.
That effectively means the glory days of injiva are over as their spending power has been reduced dramatically while the value of the rand continues to fluctuate.
Although they have lost their glory back home, injiva will still come home in droves to celebrate the festive season with their families as currently witnessed at the country's points of entry, especially Beitbridge.