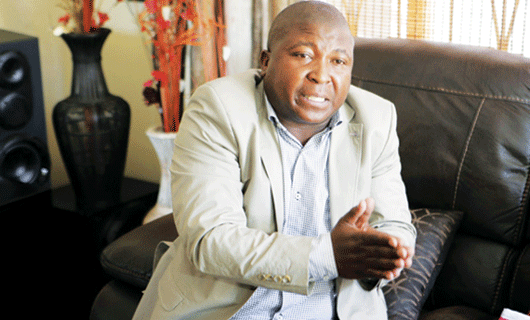 JOHANNESBURG — The man who has been outed as a "fake interpreter" claims to have obtained his sign language qualification from a UK university.
Thamsanqa Jantjie, who provided interpretation services during Nelson Mandela's memorial service at the FNB Stadium last Tuesday, not only claimed to have been at the university for two years, but that he was one of the best interpreters in South Africa.
The 34-year-old father-of-four, who has been called a fake all over the world, said he was anything but and that a schizophrenic episode while he was busy interpreting was the reason why things had gone badly that day. He also revealed that he was supposed to have gone to Sterkfontein Psychiatric Hospital that day to get his schizophrenia treatment, but he postponed it to be part of the historic moment.
However, the Department of Women, Children and People with Disabilities disputed Jantjie's claim on Thursday, saying he was not a professional interpreter and that all he had was an introductory training in sign language.
"Is he a fake, no . . . but he is not a professional," it said.
Jantjie claims to have studied full-time at the "University of Tecturers". But an Internet search showed that a university with that name does not exist.
When asked to produce his certificate, Jantjie said he had put it and other documents in a briefcase in a car since receiving a call from the Office of the Presidency asking about his proficiency and details of who had procured his services.
The car was not at home at the time, he said.
Documents that The Star has seen revealed that Jantjie works under a company called SA Interpreters and that he has done many jobs for the ANC before.
In one of the documents, SA Interpreters charged the ANC R6 000 for using Jantjie's services in June.
Just like Jantjie's university, the company was found to be fake.
Bogopane Zulu confirmed that SA Interpreters was a bogus company whose owners seemed to have vanished into thin air.
The ANC's Khusela Sangoni has defended their choice to use Jantjie's services on previous occasions, saying he had come to them as a volunteer and had also claimed that he was an accredited interpreter.
She also confirmed that they did not establish whether the company he worked under was a real one.
"When a person comes forward and offers their services as a volunteer, I don't think in that process you have to verify whether his company is bogus or not. It's not for us to do those checks, we are not the government," she said.
The revelations raised questions about how Jantjie, who was at one point little more than an arm's length away from Obama and UN Secretary General Ban Ki-moon, was vetted and received security clearance.
Brian Leary, a US Secret Service spokesman, said that it was the South African organising committee's responsibility to deal with participants and sign language interpreters.
"For the purposes of this memorial service, this would include vetting them for criminal history and other appropriate records checks," Leary said, but did not confirm whether such precautions were taken by the South Africans.
The government said none of the service providers at the event had their health status checked.
It has also emerged that Jantjie had been investigated over a R1,7 million fraud and was once accused of taking a fellow worker hostage while armed with a brick.
Jantjie worked at the Boksburg Magistrate's Court as an ordinary interpreter, not a sign language one, until he was medically boarded in 2011.
The Department of Justice referred all questions to the government communication and information system's Phumla Williams.
The Star was unable to get comment from her as she did not answer her phone.
— The Star and Daily Mail